Thailand is with out question one of the best places in the world for backpackers, the only challenge facing the country is to see whether it can retain it's charm with the increasing popularity. It has become the ultimate location for young travellers looking to party, despite this fact, it still offers excellent value for money for those on a budget. There are serene landscapes, outstanding islands, bustling cities and some of the best food you will ever eat.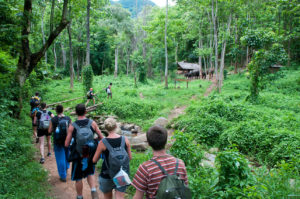 Here are some top tips for backpackers heading to Thailand:
1. Get ready
Once you have booked your flights and made all the travel arrangements it's time to start thinking about other essentials. Take a look at a site like Travelbag if you have any travel enquiries. One of the most important things to think about is insurance, you will be on the road for a while and you will most likely be travelling with some expensive items. There are so many backpackers that choose to travel without any insurance because they think it's a waste of money and that they won't need to use it, this is a big mistake! Anyone can lose something, fall victim to theft or need emergency medical treatment. If any of the above happen to you and you don't have insurance you are going to be left with a very big bill. You should not travel without insurance – it's better to be safe than sorry!
2. Know what to expect
The land of smile is a beautiful country, it's full of temples, beaches, amazing jungle and great food. What you need to know is that it's not going all be just how it is on the postcard! You should prepare yourself for all of the following; squat toilets, lots and lots of street dogs, power cuts, creepy crawlies, power cuts and of course very long delays when travelling.
3. Change your mindset
Thailand is definitely not the country for you if you like everything to be organised like clock work and a minute by minute schedule drawn up for each day. You need to get into the a relaxed, lain back mind set and take things as they come. If you can do this then you're going to have the trip of a lifetime!
4. Don't be a sheep
It is often difficult not to follow the crowds, nearly every guide book is pointing everyone in the same direction. You will often meet travellers who have the same route planned as you, this is not a bad thing by any means but you should try to head off road sometimes. The tour books will send you to all the best sites n Bangkok, Chang Mai and the islands (these places should be on your list!), when you reach these destinations try to explore by yourself and have a little adventure. You can go and see the canals in Bangkok, trek through the jungle in a national park, head out to Sukhothai to see the 13th century capital or Siam or go to a museum. There is so much on offer it would be a shame to miss it. The people to talk to our Expats of which there are many in Thailand. These guys will let you know the best kept secrets whether it's a restaurant, a bar or something to see.
* sponsored by Travelbag