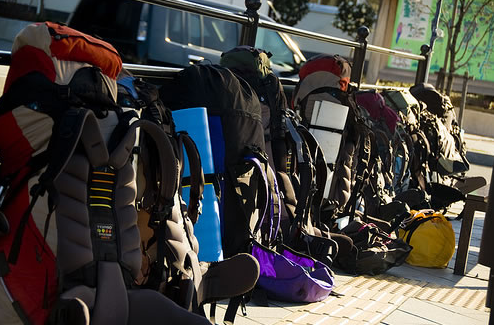 Backpacking is one of the most freeing experiences we can enjoy in life and while it may not be the first choice for many travellers, it is still a very popular way to travel on a budget. Whether you want to save money on random travel extras and expensive hotels or if you want to be in the great outdoors in a country unique from your own, backpacking is a top choice of travel for those seeking adventure, spiritual experiences and an all around great time with family and friends.
If you are new to backpacking and need to know what is most commonly required among avid backpackers, here is a general list to get you started.
Sleeping Needs Must Be Met
If you are going to be sleeping under the stars, at low-budget hostels or on someone's couch during your trip, you are going to require some level of comfort. Pack a sleeping bag, a blanket and even one of those tiny travel pillows if you can fit it into your backpack. Backpacks hold a lot of items and are even deeper than they look, but you do need to pack it wisely with the things you use most laying at the top.
Clothing and Footwear Essentials
Obviously you will need some extra clothing and strong footwear with you on your exciting journey and as you cross over rivers, follow hiking trails and for when you stop at various sites and attractions along the way. While clothing is important, the most significant thing needed on any backpacking journey is a pair of durable shoes. It is necessary to have some hiking shoes with solid grips and ankle support. You can take some lighter running shoes and flip flops along with you for regular treks and walking through towns, but make sure you have solid footwear for off-the-beaten-track adventures.
You don't want to bring too much clothing along with you. Depending on the weather and the length of your journey, make sure you have clothing that you can mix and match and use over and over again. Bring a few t-shirts and a few pairs of socks, underwear, shorts, one or two pairs of jeans and a sweater. Be prepared to wash your clothes yourself and wear the same outfit many times over. Other important items to take are a rain poncho, swim suit and a fleece jacket or nylon windbreaker.
Don't Forget Important Accessories
When it comes to accessories, make sure you put sunglasses on your list. Purchase a budget-friendly pair of sunglasses from Coastal and choose a pair that protect your peepers from dangerous UV rays and harsh winds at all times. Other important accessories include a roll of toilet paper, binoculars, a towel, soap, toothbrush, water bottle, cooking pot, vitamins, snacks, thermos and anything that you feel you cannot live without. Just a hint, we don't mean an IPhone, mascara and celebrity magazines.
Safety and Health Items Must Be On Your Packing List
This list can be a long one, but the main things you need to take are a first aid kit, compass, flashlight, extra batteries, any necessary prescription medications, bug repellent, waterproof matches, fire starter, candles, high intensity sun block, GPS unit, guide books, important contact numbers and maps.