If there is one thing that every single backpacker must have, it's a strong tolerance for alcohol. Ok I'm kidding, that's not the one thing that every backpacker needs, although it helps. But every backpacker needs a pack. I'm not just talking about your larger 50-liter type packs, but smaller ones that can be used as a carry on or as a daypack. I was in the market looking around for a new daypack and my friends over at Sports Direct hooked me up with a Sabre Hydro 30 rucksack from Karrimor. I just got back from a rip where I used this pack and I thought it was great for a few reasons.
Many backpackers I've run into won't use a daypack more than 15-liters. I get this. I really do. You don't want to be weighed down as you walk around a city all day or go on a trek through the mountains. But the truth is a pack is only as heavy as the things that you put in it. You can have a 30-litre pack and only fill it with a few things to keep it light. You don't need to use ALL of the space. But I feel better knowing that I have the space to use if need be.
There are a lot of different compartments, zippers, pouches, and bungees on the bag to strap in or hold on to anything that you may need. It has two pockets, one on each side of your hip straps, which come in handy often. They're in a great spot to quickly reach in and grab something. There is a lot of room in them too, perfect for a pocket map, passport, tickets, chap stick, lighter, cigarettes, or wallet. Anything you often find yourself going into your pack for can fit into these pockets.  They are also more secure than the pockets of your pants. no one is going to pick these side pockets.
I like to keep certain things either strapped to the back of my pack or have an open pocket to place things in. Specifically, I usually have a towel or sweatshirt strapped to the outside to save packing space on the inside. I also use the open pockets to place a bottle of water in to make it easy to grab without undoing the entire pack.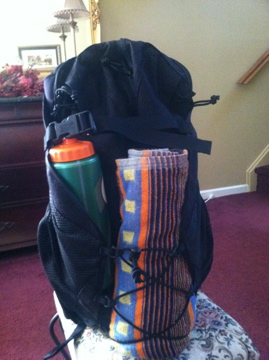 It's a great pack, super light weight, slim to help keep a low profile, and equipped with a chest strap and hip straps to distribute the weight of the pack to different parts of your body for full comfort. This pack is great for either urban backpacking or wilderness. The zippers are covered with a protective sealing to keep water out in case of rain. I'm looking forward to using this pack again.
Karrimor has a ton of great products and you can find them all at Sports Direct. They have everything from packs and luggage to jackets and clothing. It's definitely a great, affordable, one stop shop for backpackers.