A Gap Year is the perfect way to experience the world, make new friends, try new food, see different cultures and get away from the books you've been huddled over since revision periods started. Here's a rundown of the top five ultimate gap year destinations for your list.
1.Australia
A gap year in Australia sets the scene for a year of adventure. The fast moving metropolis that is Sydney has a pace of life that, believe it or not, at some point you'll want to escape from. From the Sydney Opera House to Bondi Beach's surfers, there's plenty to do in Sydney alone but make sure you head further afield and see the natural side of Australia. An Outback adventure tops many a gap year list with views of Ayers Rock, as does diving at the Great Barrier Reef. Australia is great for work, too. Australian Working Holiday visas are a popular way to see the country without breaking the bank balance.
2.New Zealand
You might think that Australia's neighbour, New Zealand, would be similar to Australia, but no, you're wrong! Life is much calmer in New Zealand, a country that excels in natural beauty. The Lord of the Rings trilogy was filmed on location in New Zealand: a beautiful setting for lush lands, natural parks and volcanoes. New Zealand is the destination for anyone who likes the great outdoors, with superb opportunities for bike riding, trekking and off beat adventures such as volcano climbing and whale watching. New Zealand is also one of the world's finest wine producers, and there's plenty of opportunities to taste in wineries dotted all over the country.
3.Thailand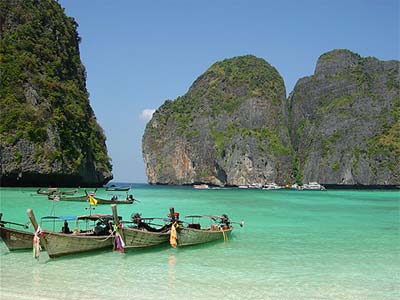 White sandy beaches, UNESCO world heritage sites, waterfalls, elephants and freshly prepared street food are the name of the game in Thailand. Fully established as a great gap year destination, there are volunteer and teaching English opportunities aplenty here. The islands of Ko Phi Phi where The Beach was filmed are a complete contrast to the country's capital city, Bangkok, where bartering for a bargain on Koh San Road is just part of the fun. Washing down Pad Thai with a chilled bottle of Chang beer, is an essential element of the Thai experience.
4. India
Flying over the snow topped Himalayas is just the start of a gap year adventure in India. From riding camels in the desert to seeing the jaw dropping beauty of the Taj Mahal, India is a country of wide contrasts, with as much variety as the spices sold in its streets, markets and small towns. Absolute must experiences include watching cricket, the national game, whether it's on the streets or at Eden Garden in Calcutta and witnessing the Holi Festival of Colours. There's lots of volunteer projects in India as well, from well building, construction, teaching to medical programmes.
5. Brazil
Often considered a continent in it's own right, never mind a country, the largest country in South America is big on diversity and big on fun! From nature to parties, Brazil has plenty to offer for a cracking gap year experience. Rio de Janeiro's beaches and Corcorado mountain topped by the Christ the Redeemer statue are one of the most recognised photos of Brazilian life, but there's more to discover in the country that's set to host the 2014 FIFA World Cup and the 2016 Summer Olympics. The carnival in Rio de Janeiro tops the party list and the stunning Iguazu Falls on the border with Argentina offer the perfect excuse to head into Argentina for even more Latin adventures.
So, what are you waiting for? Pick one, or plan a trip that encompasses every country!