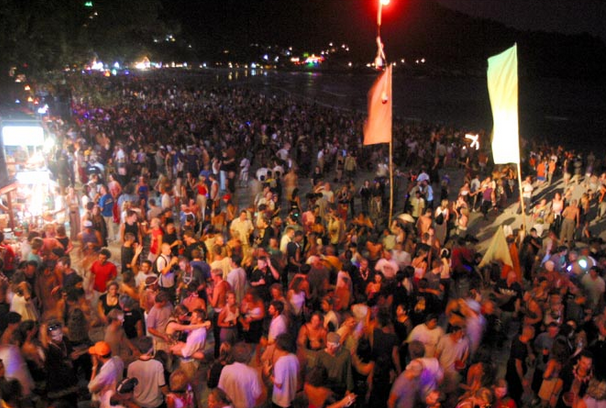 One of the most popular backpacker stops is Koh Phanang for the full moon. There is one reason for this; it's a huge party. I think the official length in five days. Before I give you 5 extremely helpful and invaluable tips for your full moon survival let me give you a quick run down on what its about. This is one of the largest revenue generators for Thailand, especially amongst tourists. Its such a large generator in fact that the country is thinking of extending the party from between 3-5 days to a full week. Since this is obviously a popular time, all of the prices on the island are jacked up, keep that in mind. The full moon is a great place to catch up with backpackers that you've met somewhere down the line. This can make the experience that much better. Its always good to see friends. Now without further or do, here are 5 tips that can save your life at the full moon.
Parties, parties, parties
There are parties every night of the full moon experience for you to go to. It'll be tempting to hit them all, but don't. It just isn't worth it. I went to three of the parties, the waterfall party, the jungle party, and the full moon party. There is also a boat party and there are sure to be others that weren't on my radar. In all honesty, I could have just done with the full moon. If you want to do more than one, I would recommend the jungle party and the full moon. There wasn't even a waterfall at the waterfall party! All of the parties run until 8 a.m. So I say do two the full way instead of all only half way.
Meet Up With People
You're bound to meet people when you go to the full moon. But it's a great idea to go there with a group that you can meet up with right away, its better for every aspect of your trip.  When you already have a group in tact, you'll have people to travel to and from the parties with and you'll feel better knowing that you have a group of friends to be with all night into the morning. The key is to not lose each other!  So work your facebook and get the plans up and running.
Book a Private Bungalow Outside of Haad Rin
Haad Rin is the beach where the full moon party. The entire stretch of beach is a series of dance floors, stages, DJs, and inflatable slides. While it sounds great to stay right where the party is, don't. You'll want to escape the music and the madness at some point and you can't do that if you stay on Haad Rin. Pick a bungalow resort outside of Haad Rin and get a couple friends to get a private Bungalow. They aren't too much more and when you're all on the same page it makes recuperating much easier. Instead of having that one stranger who still gets up at the crack of dawn after the parties in the regular dorm.
Don't Eat at your Bungalow Resort
The prices at these places are so jacked up. Take a stroll outside of the grounds and you're bound to find some food for at least the third of the price. The same goes for stocking up on water. Find a Big C or 7-11 and stock up for the night when you get back and the mornings when you'll really need it. I know its so much easier to just eat your place, but fight the laziness and find some cheaper food for yourself!
Leave the Valuables at Home
I know you're gonna want to wear your best shirt and take tons of pictures and look totally cute. But this is all a waste of time and quite risky in fact. The full moon party on the beach is just a messy affair with tons of people. It is the perfect recipe for you to lose or break a phone, camera, or both. Don't let the fun of the full moon be ruined by breaking or losing something expensive. Take out cash with you and leave your cards at home as well while you're at it. As far as clothes go, there's so much paint and sand to go around that you should buy something completely ridiculous and neon for a few hundred baht on the day of the party. That way you may even have a souvenir if it stays in decent shape!
–Nick