If you've got a taste for adventure and like trying your hand at exciting outdoor activities, you'll probably be keen to go on holiday to somewhere that enables you to realise your passions while also enjoying great weather. One place where I think you can certainly do this is Belize.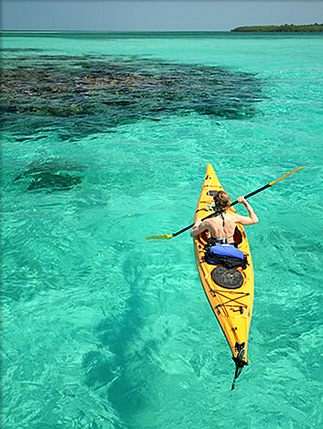 Indeed, this beautiful country is the ideal destination for those who enjoy taking solo adventure breaks in Central America, not least of all because of its wonderful year-round weather. While I love active pursuits at home, I'm often put from doing them because of Britain's unpredictable and often unpleasant weather. This isn't something you need to worry about in Belize, as even in the middle of the winter the average temperature rarely goes below 15 degrees Celsius.
As such, you can be confident that whenever you decide to visit the country the climate should be more than pleasant enough for you to enjoy a wide variety of pursuits, both on dry land and in the water.
If you're more interested in the latter, I suggest you spend a little time kayaking. By paddling through the gentle waters of the Caribbean Sea, you'll get to explore pretty little islands and take in wonderful views of the pristine beaches on the mainland. It's also worth peering into the crystal-clear sea that surrounds you, as you may get to catch a glimpse of rays, dolphins and other aquatic species swimming about.
You can get even closer to the country's marine wildlife by going snorkelling or scuba diving. With thousands of dive sites of varying depths situated all along the Belize Barrier Reef, I really don't think you'll struggle to find somewhere that you can see colourful creatures and coral formations. A good place for beginners to go, however, is Shark Ray Alley. Upon getting waist-deep in the water, you'll come across rays and nurse sharks.
Don't worry if you'd rather not spend your entire break in the water, as there are plenty of exciting adventures to be had on dry land. Indeed, if you're a keen hiker you may find you spend the majority of your getaway following the country's many walking trails. Although plenty of these are signposted and follow circular routes, I think it's a good idea to enlist the services of a local guide.
Doing so will not only ensure that you don't accidentally become lost, but these experts can also help to point out some of Belize's diverse wildlife while you walk. Despite the country's relatively small size, it is home to a vast range of birds, more than 500 different species in fact. Red-footed boobies and keel-billed toucans are just two of the varieties you should keep an eye out for as you walk, with the latter being the country's national bird.
Alternatively, you could go caving during your adventure break. Much of southern and western Belize contains an extensive network of underground caverns and, in exploring these, you'll come across stunning stalagmite and stalactite formations. Some caves also contain amazing underground waterfalls, while others – such as Che Chem Ha – have ancient pieces of pottery in them.