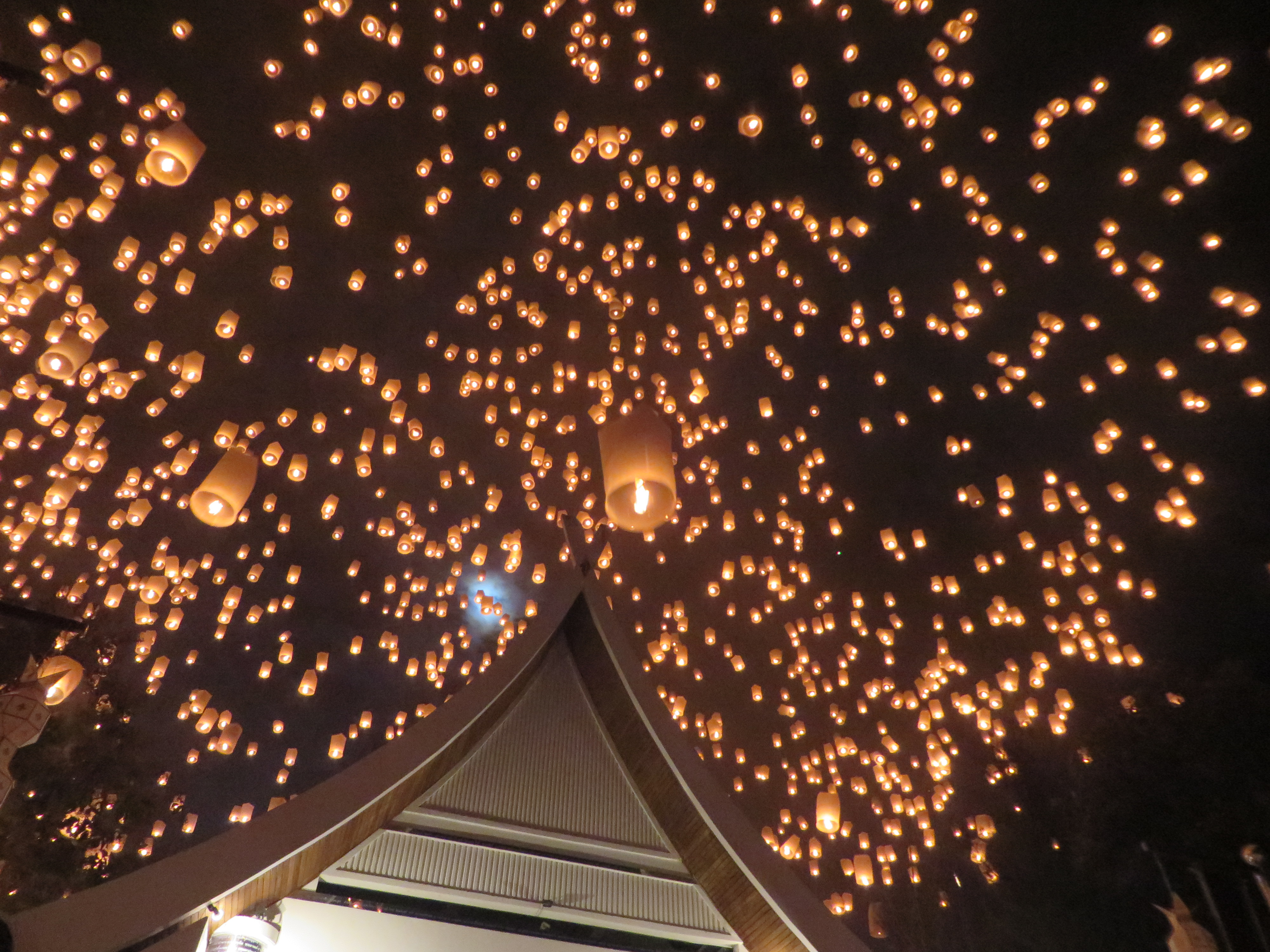 Chiang Mai is a great city in Northern Thailand. Much slower and more relaxed than Bangkok, which is very nice. I was lucky enough to spend a few days in Chiang Mai for the Loy Krathong weekend. The highlight of the festival was without a doubt, Yi-Peng. This is a Buddhist ceremony that takes place at Mae-Jook University where thousands of lanterns are sent into the sky. It's quite magical and beautiful. But as many things worth seeing these days, it is a very popular destination for many travelers. With this comes large crowds and a bit of unorganized chaos. The ceremony should certainly not be missed, so here are a few tips to ensure that you have a successful Yi-Peng ceremony.
Getting There
Mae-Jook is a bit of a ride out of the center of Chiang Mai. If your hostel organizes a taxi service take advantage of this. My hostel offered a ride to and from the festival for 300 baht ($10 USD).  This was the right call. I saw a lot of people struggling to find a cab to take them home afterwards. If you are planning on going on your own to the festival make sure you arrive early. Aim to get there around 4. If you leave a bit later than 4 you will run into tons of traffic and have trouble getting a good seat for the lantern release.
Dress Appropriately
The festival takes place at a University for Monks, which makes the grounds holy. You must abide by the same rules as when visiting a temple. You have to make sure your knees and shoulders are covered. Also if you can, wear white. It isn't mandatory but it is part of the custom. Many people were not wearing white and it was perfectly fine. But I always think its nice to respect and abide by the local customs as much as possible. If you don't have a white shirt, there are plenty of markets where you can buy a shirt for cheap.
Don't Buy a Lantern Before Going In
There will be people in the center of Chiang Mai selling lanterns. Don't buy these with the idea in mind that you'll be able to take it in to the festival and save a few bucks. You won't be allowed to bring them in. But now here's the tricky part. You have to pass through two gates/entrances. They take lanterns away from you at both. You don't have to throw away the lanterns and they don't physically take them, you're allowed to step off to the side and set them off. Wait until you know for sure that you're in and then buy your lantern and set them off with everybody at the correct time.
Enjoy It
You will find plenty of great photo opportunities during Yi-Peng and you'll want to capture them all. But do yourself a favor and after you take some pictures put the camera away and take it all in. It is truly one of the most incredible sights that I have seen. Find a good spot to sit or stand and just watch the lanterns float into the sky. You won't regret it.
–Nick