Italy is a brilliant country for road trips – especially if you're into football. Here, you can drive between colossal stadiums that house world-famous teams like AC Milan, getting a taste of footie history and (hopefully!) catching a few matches along the way. Below, you'll find an itinerary that we think will give you an unforgettable experience.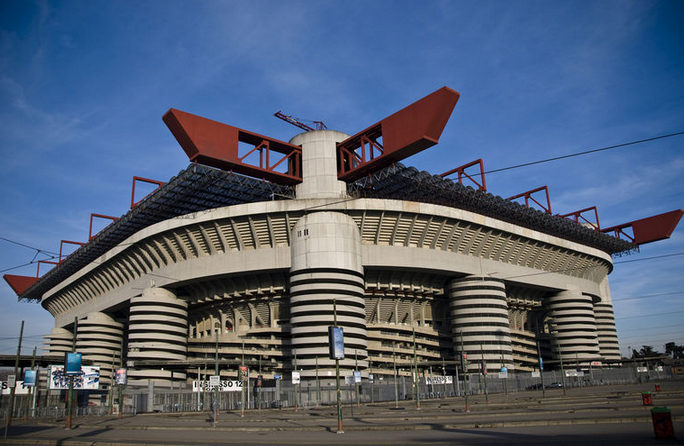 The schedule we recommend starts in Milan, which is handy because you can hire your car from the airport (find out more here) – something that means you can kick your road trip off straight away. Plus, Milan is where you'll find your first stadium, which we'll go into in more detail about below.
From Milan you'll drive to Turin which, depending on the route you take, is around 144 km away. This roughly translates to a drive of an hour and 40 minutes on the A4, or a longer one on the A7 and A21.
After checking out the footie stomping grounds here, you'll embark on the longer journey to Rome. The quickest route is on the A1, which should take just over six hours, though alternatives include travelling along the A21 and A1, and the A4 and A1.
Now we've sorted out the practicalities, let's get on to the fun stuff – the stadiums.
The first stadium you'll come to is San Siro Stadium – or Stadio Meazza San Siro, to use its Italian name. In fact, the latter reveals a little bit more of its history, since the 'Meazza' part comes from famous footballer Giuseppe Meazza, who played for AC Milan and the Football Club Internazionale Milano – both of which call the stadium home.
Built in 1925, the stadium was opened in 1926 and has been revamped a number of times since then. Come here and you can take a tour of the site, as well as visiting the AC Milan and Internazionale museum, which charts the history and successes of the two teams.
Other things worth looking out for while you're here include the massive towers that hold the roof up. There are four in total, each reaching a height of a whopping 51 m.
Head to Turin next and there will be several brilliant stadiums to visit. Being the newest and one of the most impressive architecturally speaking, Juventus Stadium is the one we've chosen to focus on today, but the Stadio Olimpico di Torino is also somewhere we'd highly recommend visiting.
Turning back to Juventus Stadium, though, this 41,000-people capacity venue is home to Juventus FC, and only opened back in 2011. What makes this stadium stand out is how modern it is – something you can best discover by taking a guided tour. This will include the dressing rooms, media areas, and players tunnels.
As a quick tip, make sure you check out the onsite Juventus Museum before you go, which clues you in to the club's history and victories.
Once you've completed the long drive to Rome, you can pay a visit to the impressive Stadio Olimpico, which is the home of two teams – AS Roma and Lazio. Construction began back in 1928, but was interrupted by World War II, so it wasn't actually completed until 1953, when it was opened with a match between Italy and Hungary.
Back in 1990 it hosted the World Cup final, while as its name suggests it also acted as a venue for the Olympics (in 1960). Bear in mind you can't take a tour of this place, so if you want to experience it (rather than just gaze at it from the outside!), you'll need to book tickets for a match. So, make sure you give the timing of your trip adequate forethought to avoid missing out.