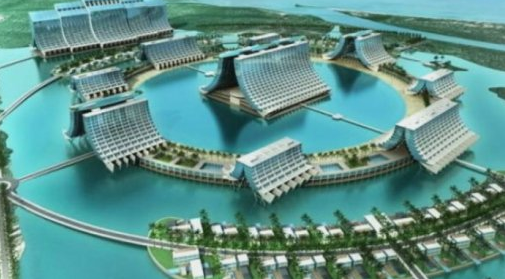 The Aquis Great Barrier Reef Resort is being hailed as a mega-complex to rival the great man-made structures found in Dubai, Singapore and Macau.
The plans for the Aquis are describe it as an innovative, exciting and a world-class integrated resort. There will be a variety of accommodation, including: 3,750 hotel rooms provided by 9 different luxury hotel brands, 1,180 apartments and 130 villas located on a beachside location at Yorkeys Knob. There will also be: an international class casino, two theatres, a sports stadium, an aquarium, a reef lagoon, a championship golf course and plenty of high-end shopping outlets.
The economy of North Queensland is highly dependent on tourism, and this resort is being touted as a way to provide a huge boost to its ailing economic situation. Recent figures have shown that less than a fifth of oversees tourists visiting Australia are heading north to areas such as Cairns. It is hoped that this resort will help to attract an influx of tourists, particularly from Asia. It has also been estimated that the Aquis will create 26,700 indirect and direct employment opportunities once it is operating, which will eliminate the current 'low season' unemployment issues in Cairns.
With 750 tables and 1500 machines, the Aquis Casino is sure to be a considerable draw for those who enjoy a holiday flutter. However, the developers are also keen to provide reassurance that the Aquis will completely comply with responsible gambling initiatives and understands the need to ensure there is an approach of personal and community support. Aquis hopes to be an Australia-wide leader when it comes to adopting international 'best practice' standards and policies for responsible gambling. The online casino operator Metro Play are looking forward to seeing the resort up and running in the near future, giving some of their customers a fantastic destination to plan a trip to.
The resort is sure to benefit from its close proximity to the incredible World Heritage Site, The Great Barrier Reef. In response to those who have raised concerns about a resort of this nature being constructed in this area, it should be noted that the Aquis will not provide marine access from the resort to the ocean, and therefore there would be little chance of any negative impact on the reef. The planning for the site has been conducted with consideration for environmental issues and with the aims of improving the environmental condition of the reef at this site.
If plans for the Aquis resort are approved, construction of the site will begin in 2014, with an estimated completion date of 2018.