The Dominican Republic is a diverse place to visit, satisfying many different tastes and desires. You may come for the beaches and the enticing all-inclusive resorts, but don't leave before you check out…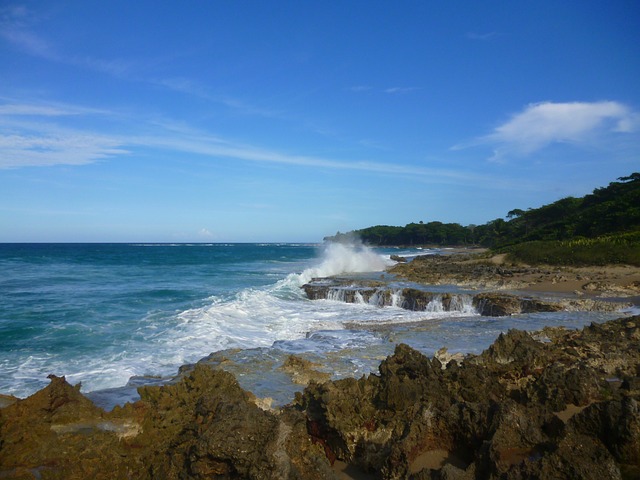 The artisans' village at La Romana
Situated on the southeast coast of the Dominican Republic, La Romana is home to the wonderfully interesting Altos de Chavón, which is a replica of a 16th-century artisans' village. It's also one of the island's top spots to buy crafts.
Fashion fans will appreciate the area's upscale Casa de Campo resort, as it's decorated by Oscar de la Renta, Dominican designer of gowns to the stars. If you enjoy golf, Casa de Campo has one of the best courses in the Caribbean, and it boasts several hotels, lovely landscaped gardens, groomed tennis courts, a riding school, and polo grounds.
Whale calving at Samaná Peninsula & Samaná Bay
This beautiful bay is dotted with islets and edged with beaches shaded by waving palms. There are many marine animals in the humid waters of Samaná Bay (Bahía Samaná), and the opportunity to scuba dive amongst them is not to be missed. But more splendid still is the sight of the humpbacked whales that come here to calve during January and February.
You can also visit the nearby Parque Nacional Los Haïtises, known for its rock formations, caves filled with birds, and pre-Colombian pictographs, set on a stunningly verdant collection of islands.
White water rafting at Jarabacoa
The Rio Yaque del Norte, which is the Dominican Republic's only whitewater river, runs through Jarabacoa, and offers gentle rapids for rafting. You'll pass spectacular landscapes of pine forests and mountain scenery on your raft, and if they entrance you enough, you may find that you want to stay longer. Explore the rivers, waterfalls and peaks by mountain biking or hiking the many trails, and enjoy natural rock climbing here too. The alpine landscape and milder climate make active holidays here a joy.
Sliding down the 27 waterfalls of Damajagua
More waterfalls await you at Damajagua—27 of them, in fact. To experience this series of cascades you must put in a little effort: From Puerto Plata, take a short drive, followed by a quick wade to the other side of the river, and then a hike through the abundant forests. It's all worthwhile once you're confronted by the beauty of the waterfalls; you can clamber onto the rocks underneath the spray and take in the peace of the surrounding landscape. And to get home again? Use the waterfalls as a giant natural waterslide and jump and slither back down.
Dune-buggying at Punta Cana
For more excitement, head to Punta Cana. Located on the eastern tip of the Dominican Republic, this is an area packed with hotels and famed for its dreamlike beaches. Scape Park is nearby and offers a full menu of activities, with a zipline tour, dune buggies for hire, and swimming at the Hoyo Azul Lagoon.
If all this sounds exciting to you, you will find the Dominican Republic an easy place to fly to, with regular scheduled flights and a wide choice of resorts and hotels to stay in. For more details on the region, see how other travellers have rated it.  Here is one excellent guide, and you'll also find that the Dominican Tourist Board provides solid, up to date information.