If you are looking for the best place in the world to enjoy a relaxing and luxurious holiday then you should head straight to the Maldives. With it's crystal clear waters and perfect white sand beaches it is the ultimate holiday destination, what could be better than waking up in a private villa on stilts sitting in the ocean. Maldives holidays packages are becoming more and more luxurious, the prices are also extremely affordable and might not be as expensive as you think. If you find a good deal then you should take full advantage of it, you will have the holiday of a lifetime. If you are undecided about whether you want to go then here are some great reasons that will make you want to book as soon as possible.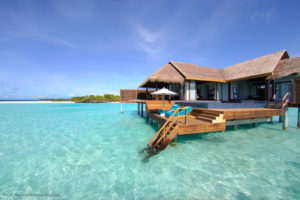 The beaches
The sandy white beaches are the biggest draw for tourists, the sun is always shining so everyday is a good day to hit the beach. There is something to do for all the family, you can enjoy a variety of water sports, play beach games, bring your bucket and spade to make castles or simply get a great tan. You will also be able to organise a meal on the beach and listen to the sound of the ocean as you dine.
Peace and quiet
If you are looking for a quiet and private holiday then the Maldives is the place for you. A lot of the resorts are situated on private islands offering you a secluded paradise. This means that you can do what ever you like and enjoy being away from the hustle and bustle of your everyday life.
Day trips
You don't have to spend all your time on the beach relaxing, if you feel like going on an adventure or for a day trip then this is never difficult to organise. You can go and explore the island that you're staying on. This will give you a great opportunity to meet local people and experience the local culture. You will also stumble across many beaches as you walk around so make sure that you bring along your swim gear. Your hotel will also be able to help you organise a packed lunch to bring with you, so you will probably end up having a picnic in a beautiful location.
Peace of mind
You can sit back and relax safe in the knowledge that the Maldives is a very safe place to go on holiday. It is one of the safest places that you can take your family.