Holidays with your children are special memories to be treasured forever, but pick the wrong destination and you can end up feeling like you need a holiday to recover. Here are our top recommendations for family holidays that guarantee a great time and allow mums and dads to unwind while the kids are having fun:
Take the family on a cruise
If you've always thought cruises were just for the rich and retired, think again. Cruises make a great family holiday and many ships feature family cabins, allowing you to make great savings sharing with the kids.  The secret to a successful family holiday is to find somewhere that keeps the whole family entertained and cruise ships fit the bill perfectly. Most are kitted out with a whole host of entertainment day and night for everyone. From pools and hot tubs to cinemas, rock climbing walls and ice skating, there's always something to keep the kids happy while mums and dads relax and enjoy the experience too.  You'll find the family-oriented ships have plenty of clubs during the daytime allowing kids to meet other children and get involved with competitions. Spa treatments and in-cabin babysitting ensure that you get just as much out of the holiday as the little ones.
For more information, check out the destinations and offers from Cruise1st who do a great range of family cruises.
Choose a family-focused hotel
It can be tough finding hotels that have adequate facilities for children but there are a few gems that bend over backwards to make your stay a happy one. Look for hotels that have made a special effort to understand and provide for the needs of families, evident from their menu, entertainment, rooms and play areas. The Caserío del Mirador in Spain is one of those rare places that actually welcomes and caters for kids, rather than just putting up with them. Set in a beautiful and quiet location twenty minutes from the beach, there's plenty to keep the kids amused, from holiday staples such as swimming in the pool, using the play area, trampolining and digging in the sandpit, to more unusual activities like wandering through the olive groves, feeding the goats and cuddling the bunnies. Mums and dads won't be disappointed either, with luxurious hot showers, fluffy towels and an extensive wine menu to keep them happy. The hotel's 'home cooking' can be enjoyed on the lovely main terrace which is much nicer than eating out.
Go camping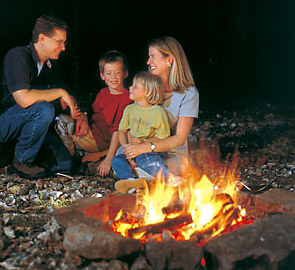 Camping might conjure up images of soggy tents, insect bites and bored kids who don't share your love of the unforgiving outdoors, but pick a good location and camping makes for a great family holiday. Feather Down Farms come highly recommended, located in various countryside spots throughout Britain. With comfortable tents equipped with cosy beds, woodburners, toilets and running water, this is more glamping than camping – but the holidays are surprisingly affordable. Mums and dads will appreciate the gentle pace of outdoor life, while kids will love collecting fresh eggs from the hens for breakfast and making a trip to the Farm Larder for bacon and milk. For extra luxury, it's possible to hire a private hot tub or shower, a veranda with rocking chair, or a feather down lounger.
Check out these other sites for more camping ideas and advice:
Camping with Children from The Telegraph
If you'd rather explore a little further afield, check out the Duinrell campsite in Holland which includes both a water park and theme park, as well as on-site go karts. There is plenty to keep the children entertained here, whether they are tots or teenagers, and there are some fantastic flat cycle routes around the area for the whole family to enjoy. There's caravans and 'Duingalows' too, if camping isn't quite your thing.