Orlando is a huge city – home to many and a popular holiday destination to many more, but it's not a city that should be pinned as one simply for holiday makers. It's a really feel good place, and whilst commercial – its offers a great range of activity focused fun. It's difficult (impossible) to narrow Orlando down to only 5 must see things, as in reality – there are 100 things every traveller should experience, but here are just some of our favourites.
1. See the first class entertainment
Live music, stand up comedy, dinner shows, theatre, and dozens of other forms of live entertainment are all in abundance on every street in Orlando. Because Orlando is known as one of the world's primary entertainment destinations, it attracts world class musicians to the well known venues like The Hard Rock Cafe and The House of Blue.  You'll never be stuck for live entertainment that will astound you and only leaving you wanting more from the city of Orlando.
Image Source: Universal Orlando

2.  Visit the beaches
Ok so sea and sand aren't your initial impression of Orlando city but don't let the opportunity pass you by. Escaping just 45 minutes to an hour away you'll find the closest east coast beaches, and just an hour to an hour and a half to the closest west coast beaches. The beaches are world class – just like the rest of Orlando.
3. Gather at Lake Eola in Downtown Orlando
Lake Eola has developed into a gathering place for young and old, visitors and locals alike. Downtown Orlando is centered on the beautiful Lake Eola and provides an incredible view of the city skyline. Lake Eola is a great place to grab a bite to eat, relax and take in the best of what Orlando has to offer. And if you're feeling adventurous, you can take daily swan boat rides or if you feel like staying put then you can enjoy weekend events like farmer's markets that offer unique foods and products.
4. Go to a water park
You're not just expected to go to a water park in Orlando – you're obligated. The heat in Florida makes it a no brainer – cooling off and having fun isn't just for kids. Slides, lazy rivers, wave pools and even some extreme waterslides at 76 foot (23 meters). If the heat has made you a little crazy, no better place to take the plunge than one of the five water parks in Orlando – Wet N' Wild, Aquatica, Blizzard Beach, Typhoon Lagoon, and the Coco Key Hotel and Water Resort.
Image Source: Double Tree Orlando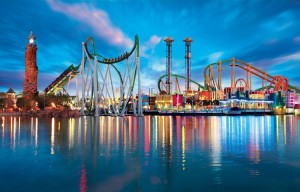 5. Visit a theme park
Last but by absolutely no means least; you must visit a theme part. The Orlando area is full of famous theme parks.   It's no wonder they are known for theme parks – central Florida has more theme parks than any other area in the world. The most famous parks include Disney World's Magic Kingdom and Epcot, Universal's Islands of Adventure and Universal Studios, and SeaWorld with its famous killer whale, Shamu. You'll be spoilt for choice when it comes to theme parks in Orlando so don't let them go to waste!
Orlando hotels are just like the city, vast, amazing and world class. Staying in Orlando is an adventure for everyone to enjoy, from the bright lights to the beautiful beaches – you'll fall in love with Florida's hub. Travel websites like Expedia offer some great deals to Orlando, including flights and hotels all year round.  So what are you waiting for…