Hey fam! Today's post is dedicated to the overnight train. It isn't as miserable of an experience as you may think! There are a lot of upsides to taking the overnight from Kuala Lumpur to Bangkok. I also think it can be a good idea to use this method (or buses) around most of Southeast Asia.
Here's why:
There really isn't a cheaper option. It cost me just around $50 USD to get from Kuala Lumpur to Bangkok. This was all booked just a few days in advance. The cheapest flights that I could find were on AirAsia and ran close to $100 USD and that's before all of the extra fees for bags, etc.  When backpacking the goal has to be to stretch your dollar as far as you possibly can. In this case, my dollars got me just over 900 miles (1400 km).
Not only do you get a lot of miles out of this trip but you also get two nights accommodation.  This saves on having to get a hotel or a hostel for two nights. I know what you're thinking, "wait, two nights?" I'll get to that in a bit.
There are also loads of other travelers who take this train that are likely to be in the same situation as you. On a budget, trying to make friends, and getting into the city at the same time. This can all lead to a nice backpacker friendship.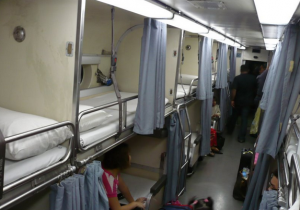 Now the neagative:
It takes a lot of time. I mean a lot of time. Where a flight would be an hour and a half or two hours tops, this journey by train took me, from start to finish, around 40 hours. I took a train out of Kuala Lumpur at 9:30 and arrived in Hat Yoi, Thailand around 11:30 (12:30 Malaysia time). Then I bought my ticket for my next train while in Hat Yoi and that train didn't leave until 6:10 at night. So I had an entire day to hang out in Hat Yoi, where honestly there isn't much to do. I found a Starbucks where I could charge my electronics up and then a small restaurant that had a good wifi connection. My train was then late and I didn't board till 7:10 and I got into Bangkok at 11:30.
If you listen to some music, read a book, watch a couple movies and then get some sleep this journey won't seem too bad!
Also, the beds weren't too uncomfortable, just the same as a cheap hostel! Something you should be used to! The only difference is that you only have a small area to sleep in and keep your bags (only my second train had a bag rack).
There you have it, the good and the bad of the overnight train.
–Nick