Kuala Lumpur is the capital city of Malaysia. Its also really backpacker friendly. There's a lot you can see here and it'll only cost a small price. If you only have a few days in Kuala Lumpur there are a few things that are essential for you to put on your itinerary.
KL Tower and Petronas Towers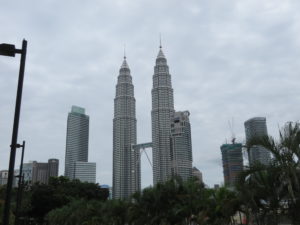 These are the two most prominent figures of the Kuala Lumpur skyline. The best way to see these architectural giants is to take the train down to KLCC and then walk around. After about five minutes you should be in a prime spot for some good pictures. If you're feeling adventurous you can go up to either the Petronas skywalk which connects the two towers or go up to the KL Tower observation deck. The only issue with both of these options is that they can be a bit pricy, around $20. But they do offer good shots of the city!
Bukit Bintang
The Bukit Bintang area is in one word, bustling. There is constant activity going on here. There's a Chinatown, bar scene, and huge shopping centers. People watching and walking around are two of the best things you can do there. While the shopping centers are expensive, the things around them are not. You can find some great street food in this area and meet fellow travelers at the bars.
Chintown
I know I just mentioned one Chinatown just before this, but there are two Chinatowns here. One was the aforementioned and the second is at Pasar Seni. This is the better Chinatown with lanterns hanging across the street and tons of shops where you can find good imitation brands of all your favorites from Calvin Klien to Luis Vuitton. A very fast paced environment so be sure you're ready to keep up!
Little India
Just a few minutes walk away from the KL Sentral station stop, Little India is a cool neighborhood that gives you a chance to experience a whole new culture without leaving Malaysia. If you're looking for food in Little India the only thing you'll find is, you guessed it, Indian food. Every other storefront is an Indian food restaurant. You can get a meal on a banana leaf for a unique experience.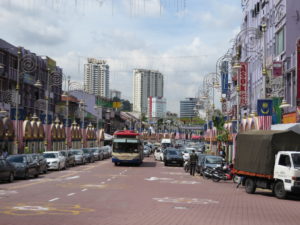 Batu Caves
You can reach the Batu caves by taking the KTM train to the last stop. These ancient caves are a great way to spend the morning. The caves are a beautiful natural wonder and are a must see. Be ready for a bit of a work out though as reaching the caves is a walk up around 250 steps. The climb is worth it though.
The best part about this list is that you can see and do all of this in a few days time and spend no more than $20 for the whole lot (unless you go up one of the towers). There's nothing like a cheap city!
–Nick