Hey everyone! I'm currently backpacking Kuala Lumpur. It's a pretty cool city and super cheap (I spend on average like $3 a meal!). While I'm here I've been staying at the hostel PODs. It's a pretty good set up over here. It has a really friendly environment and a super attentive staff. There's always at least one person around (usually two) if you need anything. I'm talking around the clock. Whenever I've gotten in someone was up hanging out, which is good cause I tend to have some late nights.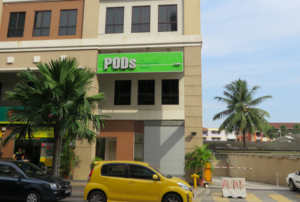 The best part about this hostel is the location. It's in Little India and only a five-minute walk to KL Sentral Station, which is most likely where your bus or tram from the airport will bring you. PODs is even closer to the KL Sentral monorail stop, maybe a 3-minute walk if you're taking your time. Both are great hubs to get around the city if there's a site you want to see or an area you want to hang out in, or you have to apply for a Thai visa (like me) then you'll be using one of these two stations. Tickets are also super cheap. It costs less than $1 to get to most places. You really can't beat that and it's always great to have a place close to the train after a long day walking around or a night out.  After both of those I'm usually just thinking about sleep!
The beds are your run of the mill hostel beds. Nothing great but gets the job done. I'm in a single private room (makes it easier to keep up with work) but I also did a night in the dorms. One cool feature that each room has and soon to be each bunk, is an outlet that also has a USB hook up for an ipod, iphone, or whatever device you have that charges that way. Its better than having to plug in a computer or deal with a converter. There is also a small personal lamp if you want to do any reading or need a little bit of light and don't want to bother anyone. The rooms also have great rates. A bunk in the main dorm is 30 RM (about $10), in the small dorm about 35 RM (around $12), a single private for 45 RM (about $15), and a double private for 75 RM (around $25).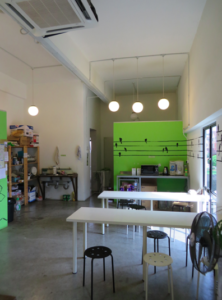 There is also a very friendly atmosphere here. Many people hang out in the common area throughout the day. There's actually stage here too, its called Platform 2 ¾. The hostel hosts some open mic nights and speakers. Its always great when a hostel has activities for people to do. But what my favorite thing about this hostel might be is that they have a water filter to refill water bottles (its the little things that keep me going!). I think every hostel should have this! It saves you from having to buy water all of the time and you can't drink tap water here. Well you can but your stomach might hate you later! PODs is a great place for backpackers in Kuala Lumpur. Good neighborhood and great location so you can get around.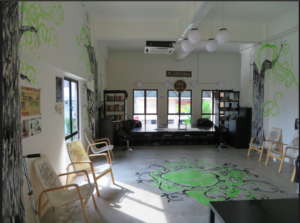 Also be sure to check them out on facebook!
–Nick