The number of foreign nationals arriving in Singapore without a job or relocation package lined up is on the rise, according to prominent recruitment firms in the city.
'Opportunist expats', a term that refers to a foreigner who arrives hoping to find a job in a booming economy such as that in Singapore, are in this case made up predominately of banking, finance and high-flying insurance professionals seeking to take advantage of the city's healthy financial and international health insurance sectors. If the individual in question is skilled enough then this approach tends to work, owing to the high demand for English-speaking talent.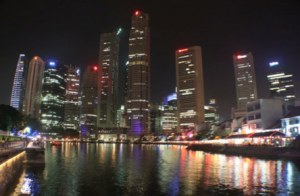 But not all is rosy in the garden. Whilst the most skilled expatriates may still find work relatively quickly, it is not as easy to get a job in Singapore as it once was. The government is tightening foreign labour rules, stipulating that firms must hire predominately local workers, whilst the number of vacant positions in the aforementioned sectors is dwindling as US and European firms rein in their employee numbers in the region.
There is also the necessity of expat health insurance to consider, an often expensive requirement for those living and working abroad, meaning that those without a guaranteed income to look forward to could be put off. There are several providers of policies specifically for expatriates living in Singapore, whether as individuals or part of a corporation, such as US-headquartered Aetna International.
Whilst the situation is not ideal for the opportunists, there is however cause for optimism. The city's KS Consulting headhunting firm work in risk-based roles such as compliance and regulation, an area that supposedly contains 'plenty of opportunities'.
"The local jobs market is indeed highly competitive, particularly in the financial sector, but there remain a good deal of opportunities for the most talented," states head of global direct business at Aetna International Louis Kaszczak.
The trend of foreigners flocking to Singapore in search of work is set to continue to rise whilst unemployment rates in Europe in particular remain at a record high. The city is famous for its cleanliness, good quality of life and relaxed tax structure.
But now the government is stepping in to ensure that a healthy number of skilled workers arriving from overseas are able to find employment quickly. A big push towards industries such as biotechnology, energy science and environmental technology is leading a new breed of skilled opportunists to flock to the island and vice versa. The state is providing incentives for growth in these sectors and so the garden may well be starting to look rosy all over again.