Sun seekers, I know you're not going to let the UK winter chill stop you from doing what you do best – sunning like a boss.
So, let me help you out.
Here's my top winter sun destinations for dodging the winter altogether …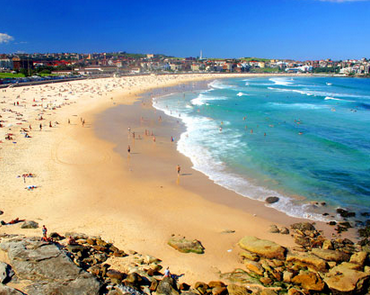 Australia
Famous as a country that never truly gets cold, the beauty of a winter break Down Under is that summer will be in full swing when you land.
Fly into Sydney or Adelaide, rent a car (probably best booking in advance for the discounts*) and boom – you've got easy access to these awesome beaches, which are all within half an hour of the airport.
Bondi Beach, Sydney
There's perhaps no beach in Australia more famous than Bondi Beach. Home of cool surfers and laidback beach dwellers, it's hard not to get caught up in the 'dude' vibes here. And being just about 8km from the centre of Sydney, it's the perfect spot to smash a city break together with a beach chill out.
Henley Beach, Adelaide
But you've also got Adelaide – a city a mere 10 minutes' drive from one of the area's favourite family beaches, Henley beach.
With plenty of ice cream parlours and lamer tamer waves, this beach is definitely one for the littler dudes in your family.
*Tip time: Holiday Autos offers car hire at most of the Australian Aiports and because it's a broker, it lets you compare prices from a range of the big car rental brands – which is a pretty sweet way of saving some spending money.
Dubai
With temperatures still averaging in the twenties during January and February, Dubai is an obvious choice for winter sun.
Jet into Dubai International Airport, collect the keys to your hire car and within minutes, you can reach some of the most stunning beaches in the Middle East. No messing about.
Jumeirah Beach Park, Dubai
Less than half an hour's drive from the airport is Jumeirah Beach Park.
Now, most of the best beaches in Dubai belong to hotels but this is one is open to the public. It's fair game … only there's a small fee to pay on arrival.
Find a spot of your own on the warm golden sand, underneath a palm tree and in earshot of the waves. By the way, this place is lifeguarded and so you can swim safe until sunset.
Mamzer Beach Park, Dubai
20 minutes north of Dubai International Airport is the gorgeous Mamzer Beach Park.
This is one of the most desirable beaches in the UAE and now has a blue flag status. Nice.
Relax on one of five beaches – each in its own cove around the coast – or if you don't fancy the waters of the Persian Gulf, have a more casual float about in one of the two massive swimming pools.
The Canary Islands
Canary Islands. I mean, if there has been one standout scorcher for winter over my lifetime, it's this cluster of islands off the West coast of Africa.
Lanzarote
Fly into Lanzarote Airport (Arrecife Airport), pick up your hire car and head to the south of the island where you'll find some of Lanzarote's top-top beaches.
Papagayo is on the southern tip of the island and is said to be Lanzarote's most beautiful stretch of sand – hidden away between volcanic hills, and kissed by both sun and sea all year round, it's difficult to argue.
Tenerife
Or perhaps you'll choose Tenerife – another all year round holiday destination.
Rent a car from Tenerife South Airport and you're just 20 minutes away from the gorgeous Playa del Duque. Protected by a breakwater, the waters at this beach are particularly calm, making it a firm favourite for families with beach babies eager to paddle in the sea.
So, there you have my list of admittedly spread out sun traps for wintertime. But there's loads more for me to tick off the ol' bucket list. What about you? Got any recommendations of your own? Share your best shouts in the comments.