Travelling can be a wonderful experience, however, there are many pitfalls and sometimes the simplest problem can turn an otherwise wonderful trip into a disaster. If you know how to handle these simple problems, you'll be ready for just about anything. Here are 13 issues you might encounter whilst travelling or preparing to travel and how to solve or avoid them entirely.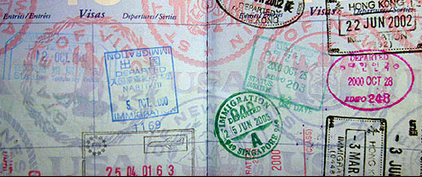 Visas
Visa rules vary by country. They can also change with little warning. A visa mishap can ruin a trip, so keep updated with the country's embassy as your trip date draws near.
Passports
One of the most stressful experiences for a traveller to endure is a lost, misplaced or stolen passport. In the event that this happens to you, head to the nearest embassy or consulate. They will help you get a new one once you've proven your identity. When travelling, always keep a black and white copy of your passport in your suitcase or other place apart from the passport itself.
Travel insurance
When unexpected events occur, travel insurance can be the perfect safety net. Not all travel insurance packages are the same, however, and you may wind up not receiving the compensation you expected or get covered for the whole time you are on vacation. Do your research and find a policy that covers all eventualities and suits your needs.
Jet Lag
Travelling across oceans and time-zones is exhausting and most travellers experience fatigue and dehydration. This experience, called "jet lag", can be minimized by following a few useful tips:
Adjust your sleep schedule a few days ahead;
Don't fall asleep, or minimize naps, until night falls at your destination; and
Drink plenty of water and bring a good moisturiser for dry skin.
Double-Booking
It's a small but common problem in the internet age: travellers are accidentally booking their plane tickets and hotel rooms twice, and therefore paying twice as much. Be careful of what you click on when booking online, print your tickets and keep the bill and confirmation of your records in case of a mistake.
Luggage
When booking flights, it is often cheaper to book checked baggage allowance online at the same time rather than wait until the airport check-in (it can save time too). Just make sure you meet the baggage allowance requirements as you could have to pay extortionate costs if you go over the weight limits.
Lost or damaged luggage can happen to anyone with checked bags. It usually occurs during very short layovers, when the luggage can't switch planes fast enough, but lost luggage can occur at any time. In fact, about 1 in 150 travellers will experience lost luggage at some point. Report lost luggage immediately, and ask about compensation for delayed luggage. Usually, it is returned within hours or a couple of days. Travel insurance will ease your mind and may cover you for any lost luggage you don't recover.
Costs
Travelling is truly a minefield of hidden costs that can sneak up on an unwary traveller. One hidden fee is the baggage fee that is now common with many airlines so make sure you book online ad don't go over the weight. Buy snacks before your reach the airport if you have to spend any length of time there, as some airport shops are notoriously expensive. When buying flights, book directly through the airline and research all the options; sometimes one way flights can be cheaper.
Accommodation
Several problems can occur with accommodation whilst travelling. Hidden fees and charges are common; a lot of the top hotels still charge for Wi-Fi so check it before you book. Be sure to research your hotel or bed & breakfast and make sure you understand their policies, including fees for cleaning, switching rooms, no-show and early or late check-in to avoid any unwelcome surprises.
Delayed or Cancelled Flights
There is little a traveller can do to prevent a delayed or cancelled flight. If this happens to you, remain with the other passengers and wait for instructions. Compensation in the form of airline credits or meal vouchers may be offered. You can also call the airline on your phone to reschedule. Be sure to call to notify or cancel any reservations at your destination if you'll be delayed for more than a day.
Missed Flights
If you are late to a flight and miss the plane, contact the airline immediately. Depending on the cause and availability, you may be moved to a later flight, usually for a small fee. Some travel insurance packages may cover this fee.
Theft
Getting your belongings stolen, either from your car, your hotel room or your purse is a very common travelling mishap. Constant vigilance is required, especially in busy terminals or streets. Consider wearing a money belt, keeping your valuables locked in a safe, if possible, and leave anything irreplaceable at home.
Medical treatment
Even the most careful and most resilient travellers can experience a medical emergency at any time during their trip. Illnesses tend to hit harder in a foreign place, as your immune system experiences pathogens it has never encountered before. Help prevent illness or injury by travelling with a well-stocked first-aid kit and remember to wash your hands frequently. If you purchase travel insurance, make sure it covers any medical costs you may incur.
Denied Entry
One of a traveller's worst nightmares is being denied entry to a foreign country. It can happen for a number of reasons, from sudden travel restrictions to incomplete documentation. Unfortunately, there's little you can do but board a plane back to where you came from. To avoid immigration problems, research guidelines before entering a county and bring complete, up-to-date paperwork. It is also good to know where you are staying, such as an address of a hotel and proof you have enough money for your stay.