Traveling the globe can be thirsty work and with this in mind you need to be able to order a beer wherever you are in the world. You might find yourself in Germany and you will definitely need to know how to order a beer in German. Whether it is France, Germany or a Klingon spaceship (see below), this is something you need to know after a day of visiting and exploring all those amazing things you've seen.
You can impress your friends and local bar tenders with your ordering skills as we present 'How to order a beer in 55 different languages'.
Just print this page and have it ready to recite to the bar staff you'll have your icy cold treat served in no time.
English: One beer please!
Afrikaans: 'n Bier, asseblief!
Albanian: Një birrë, ju lutem!
Arabic: البيرة واحد يرجى
Azerbaijani: bir pive edin!
Basque: Garagardo bat, mesedez!
Belarusian: Адно піва, калі ласка!
Bengali: দয়া করে একটা বিয়ার দিন!
Bulgarian: Една бира, моля!
Catalan: Una cervesa, si us plau!
Chinese (Mandarin): 请给我一瓶啤酒!
Croatian: Jedno pivo, molim!
Czech: Pivo, prosím!
Danish: Jeg vil gerne have en øl!
Dutch: Een bier, alsjeblieft!
Estonian: Üks õlu, palun!
Finnish: Olut mulle, kiitos!
Filipino: Isang serbesa, pakiusap!
French: Une bière, s'il vous plait!
German: Ein Bier, bitte!
Greek: Μια μπίρα παρακαλώ!
Hebrew : בירה אחת בבקשה!
Hindi: एक बियर कृपया!
Hungarian: Egy pohár sört kérek!
Icelandic: Einn bjór, takk!
Indonesian: Tolong, satu bir!
Irish: Beoir amháin, le do thoil!
Italian: Una birra, per favore!
Japanese: ビ一ルを一本下さい!
Klingon: nob jIH HIq! majQa'! (just checking you're still reading)
Korean: 맥주 한잔 주세요!
Latin: Cervisiam, sodes!
Latvian: Vienu alu, lū-dzu!
Lithuanian: Prašau viena alaus!
Maltese: Wiehed birra, jekk jghogbok!
Malay: Beer satu, terima kasih!
Norwegian: En øl, takk!
Polish: Jedno piwo, proszę!
Portuguese: Uma cerveja, por favor!
Romanian: bere unul vă rugăm să!
Russian: Пиво, пожалуйста!
Sardinian: Una birra, po piaghere!
Serbian: Једно пиво, молим Вас!
Slovene : Eno pivo, prosim!
Somali: no beerka fadlan!
Spanish : Una cerveza, por favor!
Strine (Australian English): Foster's, mate (although I've not seen any Fosters here?!?!)
Swahili: moja bia tafadhali!
Swedish: En öl, tack!
Thai: Ow Bee-a Neung Krup
Twi / Akan / Fante: Mame beer baako, mi pawokyew!
Turkish: Bir bira, lütfen!
Vietnamese: Xin cho một ly bia!
Welsh: Cwrw os gwelwch in dda!
Yiddish: אב׳ר, ז״ט אזו׳ כוט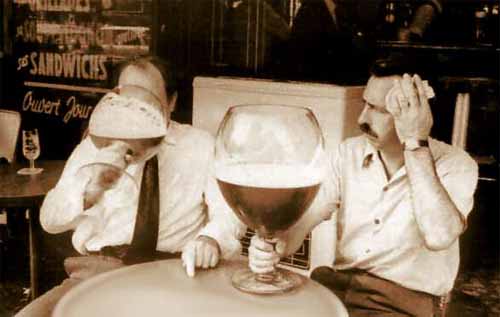 It might be worth learning a few extra words or phrases (especially hello and thank you) when you visit a new country – the local people will appreciate that you at least give it a try, even if you mispronounce (which is bound to happen!).
No matter the language, it is always good to enjoy a beer after a "hard" day of traveling. Especially when it is hot and the beer is ice cold.
Happy travels and enjoy your beer(s).
Seb