When being recommended a destination by a friend or colleague it is often very vague – 'Madeira is stunning' or 'the island is beautiful'. It is therefore much more useful to be told which specific areas they visited and would suggest you go to during your stay.
With this in mind, we intend to act as that rare, yet invaluable thing – an in-depth recommendation that gets right to the heart of where to target. So if you are planning a trip to Madeira and want to enjoy its best bits, here's the place to start.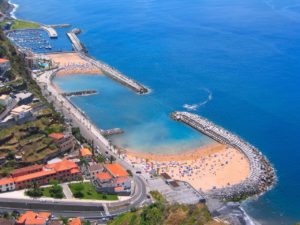 Canico
We think you should come here! Canico is traditionally an agricultural region of Madeira, known for growing onions and it was named for a long thin cane plant that used to grow abundantly in the area.
Now it is connected more closely with tourist activities, but despite the growth in this industry it has maintained much of its charm. This part of the island experiences relatively mild temperatures throughout the year, making it an appealing destination in both the summer and winter months.
Crystal clear water laps the shoreline at Canico, offering plenty of opportunities for holidaymakers to swim. It is even possible to get up close to the mantas and other harmless fish that occupy the water.
Garajau
If you are keen to have easy access to Funchal, Madeira's capital, but would prefer to stay somewhere quieter, then Garajau may just be the place for you. This pretty little village is also home to Portugal's first ever marine reserve, which was established in 1986.
To make the most of Garajau's stunning position, don your scuba diving or snorkelling gear and head out to explore this underwater paradise. You will be amazed by the variety of colours represented in the fish of all shapes and sizes. Look out for garden and marine eels as well as dusky groupers since these are the stars of the show.
Another great activity for all the family is the Garajau Cable Car, which descends 200 metres into the village's bay. From it you get stunning views and once you disembark you will find yourself on a very pleasant pebbly beach.
Enjoy swimming in the clear water or grab a bite to eat at the quaint cafe situated nearby. It makes for a lovely way to spend the day relaxing, away from the hustle and bustle of everyday life.
Machico
It is safe to say that Machico has it all. At least that is the case since a sandy beach was added to the vicinity fairly recently to complement the pebbly alternative that nature provided the area with. As well as these two swimming and sunbathing options you can also spend time exploring Machico's harbour with its pretty fishing boats and yachts.
The narrow streets of the village add to its charm and foodies will be keen to sample the wares from the myriad local bakeries that have been plying their trade for years. It would be rude not to try the pasteis de nata, or custard tarts that are a bit of a local delicacy.
For the more active-minded Mahico is also a great place from which to set off on a walk along anyone of the levadas – irrigation channels – that many come to the island to experience. We told you Machico had it all!