If you are going on a long distance journey or over three hours it's safe to assume that you will have prepared well. You'll be heading off to a new destination in New Zealand, you car is full of petrol, you have the maps ready, mobile phone is charged, the spare tire has been checked, and the engine has bee inspected – all of these pre journey checks will help you get to your destination with minimal hassle.
The aim of any road journey is to get from A to B safely. It's easy for people to say that they drove a journey that usually takes 5 hours in 3 and a half – speed isn't the primary concern, safety is! If people simply focused on getting to their destination in the quickest possible time we would see a large increase of accidents, it would also mean that you wouldn't be able to take in and fully appreciate all of the fabulous sights you will see on New Zealand's roads. Here are some simple tips to help you reach your destinations safely:
1) Tell a friend when and where you're going
It's a good idea when you're in any new country to let people know where you are. If you're heading off on a long journey then a simple text to a friend or family member letting them know where you're going is perfect. You can also text them along the route when you stop for breaks. They do not have to reply, it is just a good idea for someone to always have a rough idea of your location.
2) Don't use the cruise control
It's easy to feel tired when driving long distances, if you use cruise control it will only increase your feeling of fatigue. You need to be alert at all times and not leave any chance that you might drift off to sleep.
3) Eat light
If you are going to be sitting at the wheel for a few hours at one time then it is good not to eat heavy foods. If you eat fast food which is greasy and heavy (cheeseburgers, pizzas) you will have a greater desire to take a nap. Try your best to eat light food such as salads and fruits. Drinking coffee and fruit juice will help. Remember that a long distance journey really will test you, it's important to eat correctly before you set off and whilst on the road.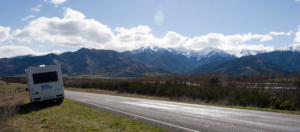 If you're thinking about going on a self drive holiday to New Zealand then you should take a look at the following two companies:
1) Caravans New Zealand – Wilderness have been renting camper vans for self drive holidays to a huge number of happy campers.
2) Hire Car in Auckland – Snap Car Rental should always be on your list if you're looking for a rental car.