Mt. Kilimanjaro is an inactive volcano in Tanzania that has been attracting mountain climbers, hikers and trekkers alike with its incredible scenes and mesmerizing adventures. Popularly called the most beautiful mountain on earth, this is perhaps one of the few destinations that let you see lush green lowland forests, heather uplands, rocky slopes, alpine scenery and snowy summits in a single week. No wonder millions decide to embrace the adventure of climbing the mountain each year!
There are seven different routes that can be used for climbing good ol' Kili, and there's an eighth route that is used while descending the mountain. With so much to consider, deciding on which route to use while climbing Kilimanjaro is never an easy job. Each route has its own benefits and each route presents a number of disadvantages. So here's a detailed overview of the pros and cons of the best routes for climbing Kilimanjaro to help you finalize a route that you'd be comfortable with.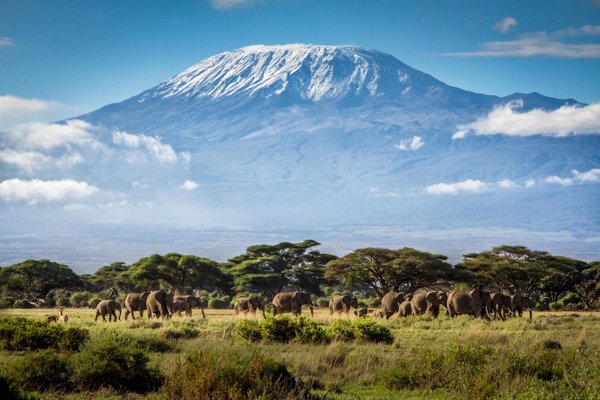 Machame Route (6 – 7 Days)
Machame Route is easily the most popular route for climbing Kilimanjaro because it's incredibly beautiful and also because it has a medium-to-high success rate of reaching the summit. The route follows a climb high and sleep low policy, which means that it allows you to acclimatize faster and it can also get very busy, which means that you almost always have company while going up or coming down.
Pros
Medium to high success rate

Incredibly scenic

Assists in acclimatization
Cons
Can get extremely busy during peak season

Fully catered camping only
Marangu Route (6 Days)
Popularly called the Coca-Cola route, Marangu is most popular among inexperienced climbers for it is by far the easiest way up Kilimanjaro. That said, it doesn't get any brownie points for helping with acclimatization, and that's probably one of the reasons for the low success rate. The route follows the climb high, sleep low policy but the elevation is moderate and therefore, not as effective.
Pros
Quickest way up the mountain

Easiest route up Kilimanjaro

Only route that offers dorm-style lodging throughout the way

Cheapest route
Cons
Low success rate

Difficult to acclimatize

Ascent and descent are via the same trail
Lemosho Route (7 – 8 days)
Lemosho is an incredibly stunning route that is located on the western face of the mountain. It is incredibly versatile and boasts of a high success rate as well. Trekking this route also lets you hike Shira Plateau, one of the highest altitude plateaus on the planet. The starting point of this trek is quite remote, and this means that you also get to explore the untouched wild, even before you start your adventure. In other words, watch out for the elephants, antelopes and buffalos!
Pros
Incredible views of gorges located on the western side of the mountain

High success rate

Presence of animals such as antelopes and buffalos

Remote

Easy acclimatization
Cons
Fully catered camping only

Not accessible during the wet season
Rongai Route (7 Days)
The Rongai is the only route located on the northern face of the mountain. It starts in the northeastern section of Kilimanjaro National Park and offers the perfect wilderness experience during the early stages of the climb. Some of the animals you see along the way include buffalos, antelopes and elephants.
Pros
Possible to trek during the wet season

Clear views of Kilimanjaro

Flatter route
Cons
Less scenic as the northern slopes are dryer

Difficult to acclimatize

Fully catered camping only
So what's your preferred route up Kilimanjaro? Do you have anything else you'd like to the list of pros and cons of the best routes for climbing Kilimanjaro? Do let us know your Kili tales using the comments below!