Men's fashion has certainly come a long way and every man should have a complete wardrobe to deal with the rigors of everyday life. But what exactly are these things that he must have? This guide will talk about the things that every guy should have in his wardrobe at his disposal, so read on to find out more.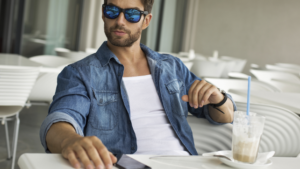 A suit
Every man needs a suit, it really doesn't matter what his day job is. He could be a banker or a musician, it really does not matter, but it does matter that he has a suit that he can wear if he needs to. A good dress shirt and tie combination are also necessary to close the circle and every many should have these too.
A variety of t shirts
T shirts are a staple of any man's wardrobe, especially because they go with literally everything. They can be worn at the beach with a tailored pair of shorts or with dress trousers and blazer for a more dressy look. It is always good for guys to have a combination of plain t shirts (I recommend grey, black, navy blue and white as a starting set) and some prints, like stripes or graphic prints that are not too outrageous and can mix and match with other clothes.
A leather jacket
Any good man will have a leather jacket in his wardrobe and of course this item is essential because it can be worn with a t shirt, jeans and sneakers for a cool and casual outfit or paired with a sweater and dress trousers for a more classy evening look.
Dress shoes
Dress shoes are a make or break for any outfit, choose a neutral derby style that you can mix and match with different outfits. These shoes should be of good quality and will serve a man for many years to come.

White sneakers
These are the staple sneaker for a man. These go with everything in a man's wardrobe from suits to jeans. These are the ultimate footwear option for any guy.
Good socks and underwear
Not only are good socks and underwear more comfortable and feel better, but they actually last a lot longer than their cheaper counterparts. These are pieces that a man should definitely invest in and not be afraid of the price.