Perhaps one of the most easily recognized sportswear brands is that of Adidas with its famous three stripes. The company itself was formed in the early part of the twentieth century by the Dassler family in Nuremburg, Germany by Adolf (Adi) Dassler and later joined by his brother Rudolf in 1924. The trademark three stripes are easily recognizable and probably their most famous and favorite products are their footwear ranges.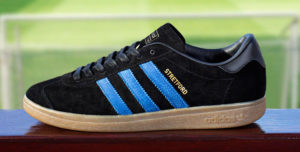 There is a well documented story that during the 1936 Olympic games in Germany, Adi travelled to Berlin with a suitcase of running shoes and managed to convince US sprinter Jesse Owens to wear his running shoes and following Owens haul of four gold medals, the Adidas brand was firmly cemented as the premier running shoes for athletes. By the beginning of the Second World War the company was selling 200,000 shoes a year. Very impressive for a company started in their mothers laundry. Unfortunately the two brothers became bitter rivals shortly after World War Two with Rudolf leaving the company in 1947 and setting up a rival firm which went on to become the Puma brand.
The company has come a long way since then and are now legendary with classics like Adidas Samba that seem to never go out of fashion. The company recently produced a select range of sport shoes made out of entirely recycled waste from the ocean in an effort to raise awareness of the amount of plastic that is floating around in the worlds oceans. Unfortunately if you want a pair of these eco – trainers you will have to be quick as they are only set to produce around 7000 pairs initially.
Nowadays of course the company's focus is not only on sports shoes but also has an extensive clothing range and provides some of the worlds top sporting clubs with shirts and also was the company that provided the balls for the 2006 World Cup finals. It is however without a shadow of doubt that Adidas will be most famous for its iconic footwear ranges. Not bad for a small family business that was started way back in the twenties in their mothers laundry in Nuremburg, Germany.
If you're looking for a great place to pick up some Adidas trainers, then you don't need to look any further than Scotts menswear, it's always my first port of call when getting the latest releases.