There is more than one way to reach the top of Mount Kilimanjaro, with six different hiking routes leading to its summit. When I started planning my trip, I found it tough to decide which trail to follow, but I did manage to narrow it down to just two – Rongai and Shira.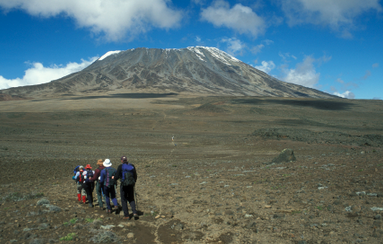 I'm going to give you a bit of information about each of them in this post, as well as explain why exactly I was drawn to these options.
Rongai route
I'll start with the Rongai route because this one immediately jumped out at me as being a trail worthy of consideration. The main thing I noticed initially was that this is the only path to approach the mountain from the north – and also the only one that doesn't overlap with any other routes until you actually get to the summit.
So, as I much prefer my hiking trails to be uncrowded, this seemed like a good bet. Another thing that appeals to me about the Rongai route is the variety of landscapes you pass through as you hike. From the farmland and equatorial forest at the start of the trek to the lunar landscape on the saddle between Mawenzi Tarn and the Kibo crater, there really is something amazing to see on every day of this walk.
The Rongai track is usually tackled over the course of six days, so you can take things slowly and your tour operator should allow for acclimatisation during the walk. I like the idea of taking my time so I can fully appreciate all the sights I see along the way, which is why I've also realised it's just as important to be selective about which travel firm you use for your trek as it is to decide which route to take.
Shira route
The Shira route is a longer option than Rongai, which means you'll usually spend around eight days on the mountain. I'm quite keen to soak up as much of the scenery as possible while I'm climbing Kilimanjaro, which is why this is my second option.
However, the main thing that distinguishes Shira from other Kilimanjaro treks is the chance to undertake acclimatisation walks in the afternoons that lead you away from the main path to the summit.
This is because Shira begins at a higher altitude than the other routes, so you need to do a bit of extra work to acclimatise initially. I see this as a huge bonus, though, because it means I can look forward to hiking in the Lent Hills or even walking up to the Western Breach to get a close-up look at the amazing hanging glacier here.
The main downside to Shira is that it joins up with the popular Machame route close to the summit, so there will be at least a day of walking where encountering other groups is likely. That said, if I travel slightly out of peak season, I should be able to avoid the crowds no matter which way up I want to go.
I'm still not entirely sure which of these two routes to follow, so it's going to take me a little longer to plan my Kilimanjaro trip. If you've climbed this mighty mountain though, which path did you follow and why? Would you recommend it to me (or any other would-be climbers)?