When planning a trip or packing you have probably thought "Should I bring my laptop traveling?" This is a great question that you should think hard about, especially when you're making the most of your precious space in your backpack for your next adventure. This is a crucial question, so let's have a look at the pros and cons of traveling with your laptop:
PROS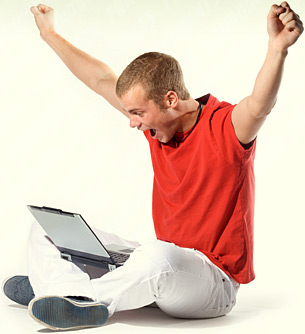 1)   WiFi:
WiFi has become so popular that more or less every hostel offers it these days and you can expect to be online more than you might think. Uploading pictures, bragging on Facebook and keeping in contact with your loved ones is so much easier if you have your own computer. And the one in the hostel lobby probably still runs Windows 95, good luck with that!
2)   Keeping in touch
Social media runs our lives these days and having a laptop helps you to keep in touch with everything. This means not only your family, but even sorting out your internet banking issues overseas. In these situations, a laptop is quite literally a godsend. It is just so much easier to organise and be consistently organised with your own laptop.
3)   Pictures
Undoubtedly you're going to take a photo or a few thousand (more than likely), so having a laptop with you is the ideal way to free up some much needed space. Of course it never hurts to have some extra pictures, so a laptop will be very useful for this. You can also sit back, relax and reflect on your pictures when you edit them after a long and hard day of sightseeing. It's awesome looking through your pictures each evening to remember how amazing your day was.
4)   Movies
Believe it or not, you'll have nothing to do in a lot of the evenings on the road, especially if you make it off the beaten track. Watching movies on your laptop is a great way to spend the evening. You can always do this with a few friends and it saves you from going out, which isn't possible every single night!
5)   Blog/journal
You want your friends and family to be able to keep up to date with your trip (naturally by that I mean you want them to be insanely jealous at how awesome a time you're having) so set yourself up an online journal or blog so they can really experience it with you. You'll need your own laptop to stay up to date with this.
CONS
1)   Losing/breaking it/getting it stolen
This is the number one fear for all laptop carriers. Your laptop is probably your most expensive piece of gear, and most likely the least robust. You always have to consider where to store it and this can be a little stressful at times. In my experience I do find that most hostels are offering lockers, but you still need to be wary about backpacking with a laptop.
2)   Becoming antisocial
Sometimes when you're in a strange country, you don't have much cash, it's so hot outside and you're not feeling particularly motivated it's all to easy to bury your head in your laptop and convince yourself that you "really needed to sort out all the pics at some point anyway". You can find yourself missing out on some adventures because the easier option is to stick your face into your laptop rather than be out meeting people.
3)   The association with home
Straight out of high-school, uni or work you would have spent disgusting amounts of hours using a computer over the last year or two. Have you really come all the way to Santiago, Chile (or other amazing exotic location) to perpetuate this?
4)   Keeping in touch
Appearing on both the pros and cons, keeping in touch can be a poisoned chalice. It is always good to let your parents know that you are alive and well, but do they need to track your every move? It can be liberating to only contact people once a week, in the age of the smart phone, this is your excuse to really disconnect and relax.
5)   Insurance
They won't cover it, it's as simple as that. You want you laptop to be insured? This will cost a small fortune, much like the laptop itself. For around $100 you can get decent health insurance for 6 months, for $200 you can get insurance for your health and personal belongings. Personal belongings never seems to exceed $200, so your laptop won't be covered! You would need to purchase additional cover which will cost too much, which defeats the purpose of traveling in the first place.
My Advice?
Speaking from many years on the road, I wouldn't travel anywhere without my laptop. Don't forget that I am a blogger by trade, so it is important for me to have my laptop at all times. You really need to ask yourself if it is important for you to take with you. Think long and hard about this and remember how well you can get by with a smartphone that can do almost everything. Let me know your thoughts about the article and my ideas for traveling with your laptop. Happy travels!