The question is often asked about London – "where to go"! With the amount of varied clubs on offer in London all ranging in size and shape, this isn't easily answered. If you're planning a Stag Party London then you really need to do your research!
It all really depends on each persons individual tastes and style. You can literally find something that will suit you. It's possible to divide the clubs into categories as it will provide you with a simpler breakdown.
First up we have the pub clubs. These are your usual pub type of nightclub. They will more than likely have been modernized to suit the crowds of today. They function as a normal pub during the day, but as soon as the sun disappears, a DJ will reappear and kicks off the nighttime tunes. Popular pub clubs like the Westbury, paradise and rest is noise all fit this bill.
The boutique club is next on the list. These offer a sophisticated clubbing vibe with exclusive environments, but still offer big dance areas for all the "suits" to jig it up after they sip down a few cocktails. Most of these boutique clubs are located around the west end and Mayfair. They can be sometimes very difficult to gain access to, and such clubs include China Whites, Boujis and Movida. You can expect to see all the super rich, beautiful and extremely fake here!
If you are looking for just your standard selection of London Clubs with a friendly vibe and easy going atmosphere, then the likes of Club Aquarium in Old Street has a swimming pool on offer along with loads of cheap drinks.
The other type of category of club is the Super Club. In these dance heavens you can expect massive dance floors, huge sound systems and all the best known DJ's around. It's these types of clubs that have given London its name as one of the clubbing capitals of the world. The ministry of sound and fabric all fit the bill of a super club and are world famous for their underground dance music combined with Ibiza atmosphere and hedonistic sounds.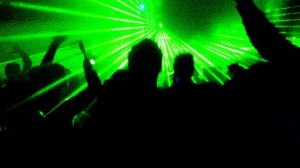 London has always been a mecca when it comes to the club scene, and you can't walk down a street in the city without either hearing the distant thump of the base or actually passing a nightclub.
For those of you looking for a real party trip, then London is definitely the spot for you!