Looking to take a break in the near future but you don't know where to go? Look no further; St. Ives is the place to go. There is so much to do in just one a small corner of the UK. No matter what kind of holiday you're looking for, whether you want something cultural, something relaxing or something adventurous you can find it in St. Ives.
Harbor Village
One of the most historic locales in St. Ives is Harbor Village.  Located in the downtown area Harbor Village can be reached every which way. Including a nice beautiful walk along the cliffs of the coastline.  In the 1900's a cultural wave swept through St. Ives. This movement has become a part of the town and you can see some of the original work and its effects in The Hepworth Museum or Tate St. Ives. You are also able to visit the Newlyn School of Art to see how the new generation of artists in St. Ives are showing the world through their work.
Coasteering
This is the new wave of action sport to hit the scene in St. Ives. It's a unique way to explore the coast and catch an adrenaline rush. Coasteering will take you down the coast through swimming, cliff jumping, diving, and climbing. This is a sure way to see every nook and cranny that the coast has to offer. Your guides will be able to take you to different pools of water inside of the cliffs that are generally untouched by the public. It's a great way to have an exciting experience that you won't ever forget.
Beach and Relaxation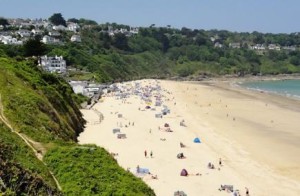 You may be surprised to hear that one of the top rated bays in all of the world is located right at the heart of St. Ives.  Carbis Bay Beach has been given the honor of cracking the top 20 on the international list of most beautiful bays in the world. Going to Carbis Beach Bay will not be something that you will regret. The soft sand and beautiful water are enough to put your mind, body, and soul in a peaceful zen.
One of the best ways to ensure you have the best holiday you can is to be comfortable. You can get yourself an apartment in St. Ives to have a self-catering St. Ives holiday. This way you have complete privacy and can operate on your own terms. There is no way to make better use of your holiday!
–Nick