Many backpackers can say they've explored Western Europe to the fullest, but what about the other part of Europe full of fascinating culture, history and life? Dive off the beaten path and explore Eastern Europe, a region with so much to offer in terms of art, food and culture, just to name a few. Here are just a few of the spots you should hit on a trip to Eastern Europe:
Kiev, Ukraine
The great thing about visiting the Ukraine is that it offers so many things backpackers love, at a fraction of the cost of some other cities in Europe. The capital of the Ukraine and one of the oldest cities in all of Europe, Kiev is a fascinating contrast of ancient and modern life. You can explore the catacombs and museums unfolding centuries of dark history, then immerse in the modern and buzzing nightlife and student culture in the city. Shop for some interesting souvenirs at one of the lively outdoor markets and sample the tasty food like dumplings for cheap.
Istanbul, Turkey
Turkey is one of the most fascinating countries in Eastern Europe because it is the only one spanning across two continents. Istanbul really picks up on this diverse vibe, and you'll feel the blending of cultures in the city's architecture, food and people. Explore the majestic mosques, dine on the flavorful Turkish cuisine and immerse yourself in the chaos of the Grand Bazaar. Before you know it, you'll be looking for houses for sale in Turkey!
Zadar, Croatia
Take yourself down to Croatia where it's time to relax by the beach, take walks along the beautiful ocean front and watch the sun sink down over the water. This town is packed with adorable beachside cafes and bars, and people just chilling out enjoying beach life. Go body surfing and swimming during the day, and rent a beachside bungalow to relax at night. The vibe here is relaxed but there is still plenty to do and lots of people to meet. The nightlife is buzzing and filled with young people all out enjoying their beach holiday.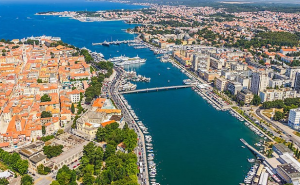 Budapest, Hungary
This is another great city for backpackers as it offers a ton on the cheap. There are lots of great affordable guest houses in Budapest and and endless amount of historical and cultural sights. Fill your days with galleries, museums and architecture in this city. One remarkable aspect of Budapest is the Turkish bathhouses you'll find in the city. Make sure and bring a bathing suit here because they don't usually allow you in the bathhouse without one. At night, dine at one of the outdoor restaurants and don't forget to try the local specialty, goulash.