There are some holiday destinations that are for everyone, places everyone wants to visit, regardless of age, interests or gender. I think a Kenyan safari would be high up on that list.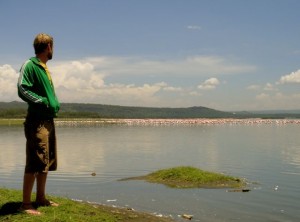 This is one of those once in a lifetime holidays that will stay with you forever, one that you'll re-live again and again through magnificent photos. A great idea is to combine a safari with a beach stay, ensuring you get the best of both worlds. Safaris can be exhausting, with early starts and bumpy roads, so I think a relaxing stay on a beautiful beach after your body has gone through such exertion is a given! Mombasa is the country's main beach destination, with many stunning resorts to choose from, with everything a beach holiday should have.
If you're planning on doing a safari, and I think it would be a crime not to, then you need to give your break the most rested start possible. One way to do this is to pre-book airport extras prior to travelling, making getting from A to B less stressful and easier on the body. Whenever I fly regionally, I tend to go from Manchester, and I've found Manchester Airport Hotels offer fantastic facilities, with a hotel to suit every budget. A rested start means this once in a lifetime holiday will live up to expectations in every way.
Many of the hotels also offer shuttle services to the terminal, which is great if you're flying early or late, meaning you don't have to sit around in the airport for longer than necessary. You can also pick up parking packages at Manchester airport for a great price!
Kenya has long been a honeymooners' favourite, yet nowadays you'll find a range of visitors, from groups of friends, to families and everything in between. With the very real opportunity to spot the famous Big Five, who can blame them? The Masai Mara is the world-famous reserve, and many safaris will touch on this massive expanse. There are many different parks around the country, so whichever you choose, it's guaranteed to be breathtaking. Can you just picture the scene? Wild animals running free, ones you only ever see in a zoo, the breathtaking awe of Mount Kenya in the background, and the eerie orange coloured earth. It's quite the jaw-dropping sight.
Night-life depends solely on where you are – obviously if you're on safari this will be non-existent, however, if you're over in Mombasa on the beach leg of your holiday, you'll find bright and colourful nightlife, with a varied range of bars and restaurants to suit everyone. Whilst you're in this beautiful country, be sure to try some traditional Kenyan food, with seafood in Mombasa delicious. However, in resort, you'll find something for every taste, so nobody will go hungry.
I'd really recommend pre-booking airport extras prior to travelling, to really kick-start your break and make it one to remember, without memories of stressed out plane journeys! Check out travellers' reviews of the Hilton Hotel at Manchester Airportor choose one to suit you from a huge range, whether you want basic or luxurious.
The call of the Kenyan savannah is truly a special one, and one that shouldn't be ignored.