Tasmania is a land of expansive plateaus, craggy snow-capped mountains, rainforests and white sandy beaches. Inhabited for more than 35,000 years, Tasmania has a fascinating Aboriginal culture and colonial history. The temperate climate enables you to explore the idyllic countryside and the cosmopolitan cities. Cheap flights from Australia are an ideal way for eco-tourists and outdoor adventurers to discover Tasmania's diverse mix of activities and attractions.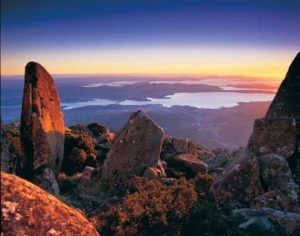 The 150-mile wide Bass Strait has left an indelible imprint on Tasmania. Isolated from the Australian mainland, the island has a remarkable mix of endemic flora and fauna. Mountain bikers, hikers and equestrian riders can enjoy the scenic Tasmanian Trail. The path enables you to explore pristine national parks, nature preserves and farmland as well as historic towns along the 298-mile course. A bushwalk up Cradle Mountain is the quintessential wilderness experience.
For a bird's eye view of the pristine woodlands, you can take the treetop AirWalk on suspended bridges in the Tahune Forest. Bruny Island has peregrine falcons, diminutive penguins, rare white wallabies, curious seals and soaring cliffs. Offshore you can survey various species of whales and dolphins.
Flights to Tasmania enable outdoor adventurers to scale the face of Cataract Gorge and whitewater raft in Wild Rivers National Park or view Russell Falls in Mt. Field National Park. You can ride the legendary swells in South Cape Bay or Cloudy Bay.
Hobart, Launceston and Port Arthur enable visitors to explore Tasmania's history and culture. These metropolitan areas have wonderful galleries, museums, world-class restaurants and well-preserved examples of colonial architecture. The capital of Hobart is the second oldest metropolitan area in Australia. The casual atmosphere provides the perfect backdrop for festivals, live music and the local cuisine.
The island has a wide selection of wines and prime cheeses that will please the palette of any connoisseur. You can sample Belgian truffles, luscious berries, premium beef and fresh seafood, such as trout, octopus, oysters and lobster.
Sullivans Cove has a maritime museum that explores Tasmania's connection to the ocean and shipbuilding. In Launceston, you can survey numerous fine examples of Victorian, Edwardian and Art Deco architectural styles. The city is also home to the Queen Victoria Museum and Art Gallery. The museum showcases colonial, Aboriginal and fine art.
Port Arthur was once the site of a penal colony for the nation's most hardened criminals. The facility was encompassed on three sides by shark-inhabited waters. Today, the town is a major tourist attraction and gateway to the breath-taking, natural wonders of Tasmania. You can explore the area by taking a scenic train trip along the Don River or driving from Hobart to Launceston on the Heritage Highway.
Whether you are in search of adventure or panoramic vistas, you will be intrigued by Tasmania's history and culture.