Australia is always on the the lips of travelers. With its beautiful beaches, laid back culture and cool people, it's the perfect destination. Combine that with the fact that thanks to their location on the globe it means you can escape the horrible Northern Hemisphere weather around December, and come here for your warm Christmas holidays.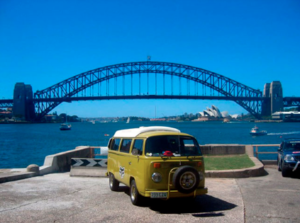 However, after you realise how amazing Oz is, and if you're looking for something to mean you can stay a little longer, perhaps these suggestions can help you out.
Anyone who's been bitten hard by the travel bug knows how important it can be to find work along the way to fund the incurable addiction. And if your wanderlust leads you down under, you're in luck! There are plenty of jobs for backpackers in Australia, as long as you're willing to be flexible, creative and get out there and talk to people! Here are 5 ideas to get you started:
Teaching English: That's right, don't rule out teaching English in Australia just because it's so commonly spoken there- plenty of TEFL (Teach English as a Foreign Language) teachers are needed. With over 200 TEFL schools in the country, you can get certified here and get assistance in finding a job. Definitely take a 120-hour classroom TEFL or CELTA course as opposed to an online certification! Check out CactusTEFL for course listings in all the major cities.
Bartending/Serving: If you're into working in a social atmosphere and racking up the tips, bar or restaurant work is probably for you. It's a great option here because hospitality work in Australia pays a better base wage than most other countries, and you can find opportunities nearly anywhere. To bartend in Australia, you'll need to complete a Responsible Service of Alcohol (RSA) course online, but then you'll be good to go.
Hostel Work: They don't always advertise it, but many hostels will offer a free bed and sometimes a small amount of pay in exchange for several hours of labor per day. The type of work will vary, from office work to cleaning, cooking or other odd jobs, so as long as you are flexible, the opportunity is yours! Your chances are best at an independently-owned hostel, not one of the chains. Just ask the owner what you can do to help out- you've got nothing to lose, and a great deal in accommodations and experience to gain!
Organic Farming: Want to experience life on a farm, learning about organic farming, permaculture and other aspects of rural living? Consider WWOOF, a work-share program where local farmers offer full accommodation and meals in exchange for volunteer work. If you've got a willing spirit and open mind, you're in for an unforgettable experience learning hands-on about organic living and bonding with your host and other volunteers.
Fruit Picking: With seasonal fruit picking work, all you really need is a willingness to get your hands dirty! It's a great gig because you don't need any experience, and there's little commitment involved- you can work for a few days, weeks, months, or whatever suits you! Farmers generally pay by the bucket/bin filled, so with practice you can make a decent chunk of change to fund your adventures. Ask around at hostels for leads on work, and check notice boards around town and word of mouth from other backpackers.