Singapore is one of those unexpected places in Asia that is just totally unique from the rest. It truly has become a special place to me, and I really enjoy spending some time there whenever I get the chance. I always wanted to write a bit more about it, and I thought that I would take this opportunity to do so with this post. I hope you enjoy reading about some of the things that you need to do when visiting there for the first time.
Gardens by the Bay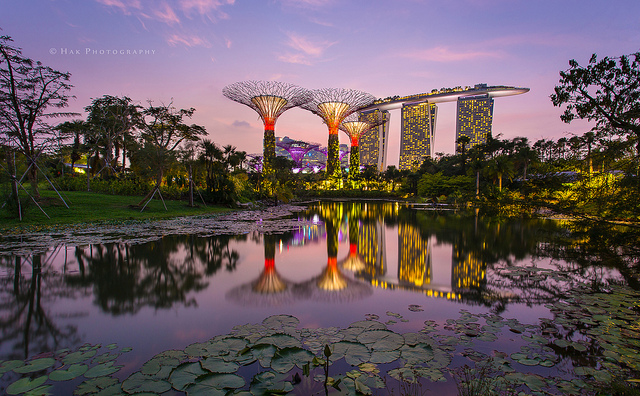 Image via Flickr by hak87
You will think you are really in another world when you see this park, and it reminds me so much of the movie Avatar. It is absolutely beautiful with three gardens, the most famous of which is known as the Supertree Grove. Here there are many artificial trees that reach up to 50 metres high. You can even walk between them – a number of which have a walkway that connects them. This is an incredible opportunity to view the beauty of Singapore, and the nighttime is an especially magical time to see this area. The trees also are illuminated in a stunning fashion with hues of pinks, greens, and blues.
Orchard Road
If you like shopping, then Orchard Road is the place to be. This two-kilometre road is the main street in Singapore and the heart of the city. It truly is a shoppers' paradise, with all the luxury stores that you could ever think of and everything else in between. This place literally gives meaning to the phrase 'shop til you drop'. That's exactly what you'll be doing after a day trip here.
Sentosa Island
This is perhaps one of the most famous and loved tourist attractions in all of Singapore, and it really isn't hard to see why. On one hand, you have beautiful beaches and resorts to enjoy the warm weather, and on the other hand, you have many other great things to do, such as visiting Universal Studios, playing golf, or heading to a spa to get some much-needed treatments and a massage. I highly recommend Sentosa for its beauty, nature, and great vibes. If you want to make your stay in Singapore even more special, I would recommend spending some time here and finding a great place to stay in one of the beautiful IHG Singapore hotels nearby.
Food
The food that you get in Singapore is some of the best that you can find on the planet. After all, Singapore is a mixture of many people coming from areas, such as China, Malaysia, Indonesia, and India. This provides an incredible range of foods to eat. My favourite has to be street food – especially the 'hawker' food stalls where you can eat to your heart's content without breaking the bank. For a great Indian dish, try some 'roti canai', which is a flaky flatbread cooked in butter. It is absolutely delicious. Other dishes you must try are curry laksa, satay sticks, Hainanese chicken rice, and Nasi Goreng (special fried rice).
If you're planning a trip to Singapore or looking for something to do in the city-state, remember these must-see sites for first-time visitors.