Toronto is one of the nicest cities in the world with a fine mix of culture, history, and a quality of life that you don't often find in many other cities around the world. I love visiting so much that I decided to write a bit more about some of the great things to get out and do there. I hope you enjoy reading about them.
Niagara Falls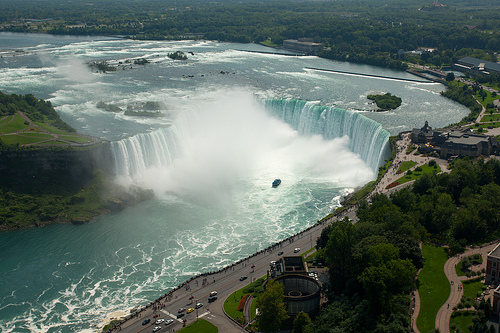 Image via Flickr by Rodrigo Ono
Although your base might be one of the many IHG hotels in Toronto, Niagara Falls is close enough that you take the 90-minute drive from the city to the most incredible falls on the planet. It is amazing to think that 750,000 gallons of water fall each second, and the incredible sound and moisture in the air is an incredible thing to experience. The falls are best viewed from the Table Rock, where you can get within a few metres of the edge of the falls! This is an incredible sight and a beautiful reminder of the power of Mother Nature. If you want to try something different, you can view the falls from behind, which is just as amazing as it sounds!
Watch the City From the Top of the CN Tower
This was once the tallest building on the planet and held this title for about 30 years. It is still an imposing sight and certainly the most iconic in the Toronto skyline. It's nice from the ground, but very tall buildings are always best experienced from the top! The EdgeWalk is an incredible opportunity to walk on the roof of the tower on a tether and to get close to the edge too! This is an exhilarating experience that you will never forget. If you prefer to stay on the ground, you can simply view the tower in the early hours of the morning (around 2 a.m.) where the tower is lit up with coloured LED lights.
Visit the Royal Ontario Museum
Toronto is a place that is not short on museums, and my favourite has to be the Royal Ontario Museum. This museum is home to one of the most beautiful natural history collections I have ever seen as well as many other exhibitions from different cultures and periods of history from around the world. Instead of a purpose-built natural history museum, it nicely combines the two elements of history and the natural world. This museum is a fantastic reminder of the liberal and open attitude of the Canadian people and their acceptance of all different cultures from around the world, and it is one of my favourite places to visit in Toronto.
Head to the Toronto Zoo
This zoo is the largest in all of Canada and is home to over 450 different species of animals, which means there is really something for everyone to enjoy. One of my personal highlights when visiting was the two giant pandas. I found that pandas are the most interesting and funny creatures to watch. They certainly love playing and eating, and there is always some excitement when watching them. The popularity of the zoo speaks for itself, with over 1 million visitors each year, and it is a place for