Everybody loves music and everybody loves the beach, so what could be better than a festival that combines the two? We've been digging around trying to get the lowdown on the best beach festivals around the world. So sit back, polish up the sunglasses, get the dance-friendly beachwear out and prepare to party in the sand.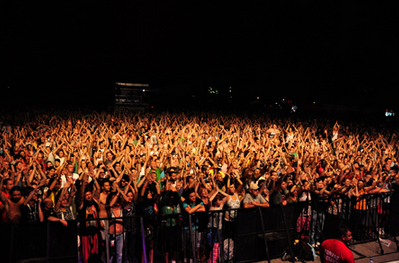 Beach festivals happen all over the world, find below our four top picks for fun and music on the beach, ever.
Soul Beach Music Festival, Aruba
First up we head to the far flung island of Aruba, in the Caribbean. This jewel of the Dutch Antilles is the perfect place to spend Memorial Day Weekend at the Soul Beach Music Festival. With big name soul acts on the bill this idyllic island transforms itself into a music lover's paradise. This year's acts included Sinbad and Ne Yo and next year we are promised even more high quality names. Dancing on the white sand, enjoying comedy and live music concerts as a warm sea breeze gently blows and simply chilling in the friendly atmosphere; what better way to spend Memorial Day Weekend?
Spirit of Burgas, Bulgaria
This is a relatively new festival, which has gained a great reputation during its short existence. Staged on the exquisitely beautiful Black Sea coast, in the city of Burgas, in Bulgaria, this European musical festival is highly rated. All genres are represented here, so there's something to please everyone. Held each summer on the beach this three day festival offers a feast of world renowned acts. Performers this year include Wu Tang Clan, Chase and Status, Paul Oakenfold and Rizzle Kicks to name just a few. With good transport links, car rental into the nearby airport and lots of local campsites, it's one of the easiest, best value music festivals in Europe. Even better, it's held on the beach.
Hangout Festival, Alabama
Pack the sun cream and shorts and head to sandy Gulf Shores, Alabama, for the Hangout Music Festival. This popular celebration of great music, which takes place on the white sands of the Gulf Coast, attracts fans in their thousands. This year acts included Tom Petty, Stevie Wonder and Kings of Leon in a huge, star studded line up. This part of the Alabama coastline is a relatively well-kept secret; it has miles of beautiful beaches and cheap tickets are easier to come by here, than in nearby neighbor, Florida.
Sziget Festival, Hungary
Obudai Island is situated in the middle of the River Danube, in Budapest and is the venue for the annual award winning Sziget Music Festival. Surrounded by water, there is not much sand to be seen; however, the distinctive and rich mix of cultural delights on offer makes up for the lack of beach. Lovers of all music styles, theater, circus and art have been rocking up to this festival for over 20 years, so it must be doing something right.
So, that's our pick of some of the best beach music festivals in the world right now, all guaranteeing an unforgettable experience, combining the best in sun, sand, songs and smiles.