Name: Dave and Vicky
Age: 25/24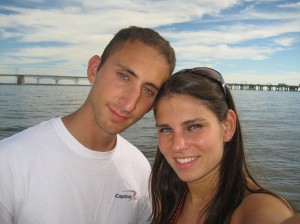 Travel Blog: acoupletravelers.com
How long have you been travelling?
Vicky and I have been traveling together since we were 17. As seniors in high school we spent 12 days in Italy after graduation. Since then we've gone to Spain, Israel, and Greece, as well as many other countries separately. Our upcoming two year trip will be our longest consecutive travel time together. We're leaving September 13th, 2012!

What's been your route? 
We're that plans everything out and consequently, that all the other travel bloggers laugh at. We have a very detailed route through Asia and Europe that maps out the next two years. I'm not saying we're going to stick to it 100%, but it's there as a fall back.

What's your favourite and least favourite country?
Vicky and I had such a wonderful time in Greece. The people wree amazing and so hospitable. I just feel like we did everything on that trip; relaxed on the beach in Santorini, hustled through the monuments in Athens, and drove around the Peloponesian coast in a rented a car. Travel can be such a difficult decision, especially when there are multiple people to satisfy. Do you want to take it easy and get a tan, or do you want to run around and see everything. Greece is the perfect medium in my mind. It was our first vacation since we started working and we I think we really nailed it.
Honestly we haven't traveled nearly enough to have a least favourite country. I've really enjoyed my time everything. Maybe ask us again in 6 months and we'll have a better answer.

What's been the most awesome travel experience you've had?
Vicky went sky diving and bungee jumping in New Zealand and I'm sure she ranks that as one of her top travel experiences, but, I think one thing we both agree on is the time that our waiters drove us home after dinner. It was late and we were far from our hotel in Santorini. We tried to get a cab but couldn't get one in that area at that hour. It was then that the restaurant owners volunteered their nephews to drive us to the other side of the island. That's the sort of hospitality that sticks with you for a long, long time.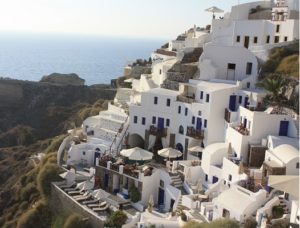 If you wish you knew something when you started traveling, that you know now – what would that be?!
How great Couchsurfing is. It's really a recent thing for us and now we're booked pretty heavily with it for Japan. It's such a great way to meet locals and very easy on the budget. The places we stayed at before, mostly hotels, were fantastic – but to some extent I wonder if we were missing out by being so "touristy".

What was your weirdest travel experience?
Hanging out in Christiania in Copenhagen. This place is really unique and interesting, advertising itself as a self-proclaimed autonomous neighborhood where marijuana is supposedly legal. One of my couch surfing hosts took me there on the back of his scooter and it was interesting to say the least. It's attracts a somewhat seedy crowd but it's also unlike anywhere I've ever been. 

How much have you spent on this trip and how long has it lasted?
We budgeted over 50k for two years for the two of us in Asia and Europe. The plan is to make a bit of money on the road through blogging and writing so that doesn't represent all of it, but it's the majority of it and it's two years of hard savings.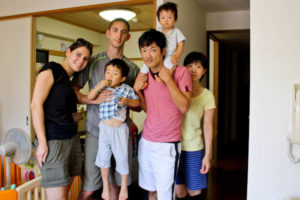 Where to next?
We're leaving for two weeks in Japan on Saturday and it's no looking back after that. 

What advice would you give to any Aspiring Backpackers?
Do it while you're young. When we told everyone about our trip, so many of our co workers said the same thing – "Man, I always wanted to do something like that but just never got around to it". We decided that we did NOT want to be those people. Make it happen. It doesn't have to be two years. Even people I know who have backpacked for just two months have come back with great experiences and new perspectives.