I am a firm believer that the point of traveling is to see all you can see and have a lifetime of stories to tell. Its always great to have a reason to go somewhere, it gives you a plan of action and a purpose. Sometimes this means going to a resort and doing nothing but sipping on an umbrella drink while sitting on the beach, which I love. But sometimes it means pushing yourself to the limit and doing something that a minority of people have also done, I think I love this more. Climbing mountains is a great way to push yourself, give your trip purpose, and do something remarkable. In case you aren't sure where to climb, here are 5 great options to get you started. I would suggest a guide for all of these mountains, saftey first people! Plus, they know where all the great photo ops are!
Kilimanjaro, Tanzania 19,340 ft. 5,895 meters
Kilimanjaro is clearly a mountain to put on this list. It is the highest free standing peak in Africa. On your way to the top of Kilimanjaro there is plenty of wildlife to see as you trek up the three volcanoes that make the mountain up. Don't fear, the volcanoes are dormant, lava and fire aren't one of the dangers of climbing here. The goal when climbing here is to reach Uhuru, the highest spot on the mountain. This is a trek that can be done by anyone is basic shape.  Meaning, you don't need to be a super athlete but you should be able to work a lot of muscles and do lots of hiking. It takes about 5 days and $1000 USD to conquer this quest and give you a lifetime of starting sentences with "That time I climbed Kilimanjaro…"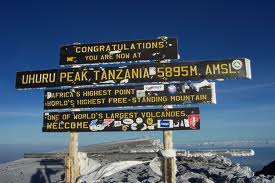 Mt. Everest Base Camp, Nepal 17,650 ft. 5,380 meters
Another obvious climb for the list is Mt. Everest is the tallest peak in the world. But reaching the summit of this mountain is not what I am recommending here and now. I am suggesting hiking to the base camp, which is essentially the bottom of Everest and the starting point of going to the summit. But don't be fooled, the bottom of this mountain is 17,650 feet (5,380 meters) high. This is higher than most peaks. This hike is strenuous and should not be taken lightly. It is cold, difficult and long. The trip takes about 12 days if you're moving at a good pace. But it promises to be one of the most awe inspiring scenes that you could ever lay eyes on. Making it worth every ache pain and shiver. Summiting this mountain is extremely difficult and dangerous and should only be considered by experienced climbers. The base camp hike will still give you the Everest experience and is quite realistic to accomplish.
Mt. Elbrus, Russia 18,510 ft. 5,641 meters
This may be the most dangerous and difficult mountain on this list. It is not so much a hike as it is mountaineering. Many people underestimate this mountain and casualties reach between 15 and 30 a year. Most mountains only require appropriate clothing and footwear. Elbrus not only requires these but also an ice axe and crampons (which are more or less spikes to strap to your feet for better footing). There are several crevasses that are hidden by snow and can be as deep as 100 ft. Falling into one of these surely can be fatal. Again, for reasons such as this it is important to be smart, safe, and use a guide. The danger and difficulty that this mountain possess can make reaching the top all that more rewarding. Getting to the highest point of Europe is quite the feat and offers a view that you likely will never experience again.
Mt. Olympus, Greece 9, 573 ft. 2,918 meters
While this may not be the most difficult climb or set any record hieights, Mt. Olympus is worth the trip because of all the myths surrounding it. Not myths about the mountain itself, but come on, its where Zeus, Apollo and Aphroditie hang out. I would recommend taking two days to do this hike, doing it in one would be a lot to handle. There are plenty of refugees to stay at along the way. I stayed at the refugee Spilios Agapitos. Here you have lodging for the night, food (which is a little pricy) and you get to meet other climbers. You don't need to be in great shape to make this climb. The E4 route is the most popular route and can get you to the top two peaks, Mytikas and Skala (2,912 meters). One of the coolest attractions on the mountain though is Zues's Throne. Seeing this makes you realize just how big of a deal this guy was!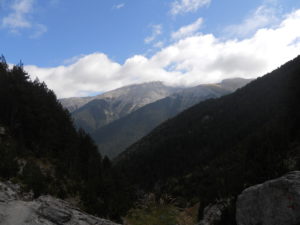 Mt. Fuji, Japan 12, 388 ft. 3,776 meters
Mt. Fuji is also a great option for a climb. This climb is not like many other climbs, for starters you climb at night. The biggest attraction of Mt. Fuji is to watch the sunrise. Many climbers do not sleep overnight on the mountain and they leave around 11 o'clock at night to reach the top before the sun rises. Make sure you have a flashlight for this one. You can rent a cot to sleep near the top if you want, but you may be sharing it with a stranger if you don't have a friend with you and they cost around $100 USD. Although it seems like a pain to make this journey in one shot starting at 11 at night and finishing around 11 in the morning, it is totally worth it. It may the only time you are one of the firat people to see the sun rise for the very first time of the day, pretty sweet if you ask me. The Kawaguchi trail seems to be easy and the most popular.
Or if skiing or surfing is more of your thing…