Scotland has a lot to bring to any weekend away, whether you are looking for a relaxing get away, a city break or adventure, there's nothing you can't find when visiting one of the most charming nations in the British Isles. Here are three of the top destinations and activities to make the most of your time in Scotland: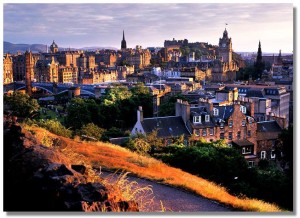 A weekend-break in Edinburgh
Let's start with the country's illustrious capital. Edinburgh is a shopper's dream, with every major high street brand having a prime location on one of the most famous shopping streets in Europe: Princes Street. You may leave the city with a creak in the neck though, as you will have spent the weekend staring up at the breath-taking, historically beautiful, quintessentially Scottish architecture littered around the city's ancient streets. For those deeply interested in history the city offers a profound historical tapestry waiting to be unravelled by any visitor.
Golf in Perthshire
Golf is a national sport in Scotland since it was invented here years ago. If you golf in Scotland with Your Golf Travel you will be in for an absolute treat, especially if you head to Perthshire with its natural rolling hills and spectacular scenery. Many of the resorts not only offer some of the best courses in the world, they can be a trip for the whole family, with spas, activity centres and more. Check out some of the best locations at yourgolftravel.com.
Camping in Loch Lomond
Loch Lomond can boast some of Scotland's most beautiful natural sights, perfect for camping. Take the whole family and enjoy the array of different water sports on the loch as well as mountain biking, walking and trekking in the idyllic countryside. Alternatively, for those who appreciate nature but would rather stay within the comforts of home there are some stunning, cosy little cottages dotted around ready to be rented by the perfect couple or family.