Welcome to Tuesday's Timeout. After speaking with Ruth from Tanama tales last week, we now have Jillian and Danny who created the fantastic site I Should Log Off.
Let's read on for some of their interesting travel on the road:
Name:  Jillian and Danny
Age: 29,30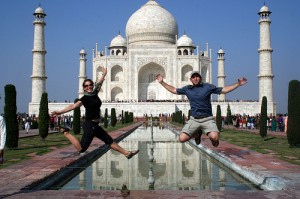 Travel Blog: www.IShouldLogOff.com
How long have you been travelling?  We travelled around the world for 21 months, but we've always had a travel bug! Together we've been to 50 countries.
What's been your route?
We walked across the US/Mexico border at Tijuana and continued south through Central and South America to the tip of Argentina at Ushuaia.  Then we jumped to Africa and overlanded the continent from Cape Town to Cairo in a mix of buses and a private Land Rover.  From there we spent a few weeks in Jordan and Israel, before heading to Western Europe to catch the running of the bulls in Pamplona and the Tour de France.  From there our route headed east and we overlanded the Silk Road from Istanbul to Beijing.  After a month in China we headed to SE Asia for a bit of R & R before heading to India!  Believe it or not, we crossed the equator 10 times!
What's your favourite and least favourite country?
Hard to say – you see every country only for a moment in time and your feelings depend completely on how you are feeling in the moment.  A place could be perfect for the moment, because it fulfils the need you have at the moment (adventure, relaxation, etc…) but that doesn't mean you want to return!  We really enjoyed Argentina, South Africa and Turkey.   Africa is by far our favourite continent!   We had a particularly unfortunate experience in Ethiopia (we actually called it the worst day ever), which coloured our view.
What's been the most awesome travel experience you've had?
We've had so many incredible experiences with the people and cultures of the world.  Climbing Kilimanjaro in Tanzania was definitely a highlight as was camping in the Sahara Desert in Sudan and waking up next to pyramids.  Africa as a whole was the most amazing travel experience.
If you wish you knew something when you started traveling, that you know now – what would that be?!
I wish I had known that we'd need time off!  I thought it was going to be like being on vacation, but there are sometimes when you are just tired of seeing new places and new things.  I felt guilty when it happened, but we quickly realized that we needed a bit of vacation from travel in order to renew our appreciation for the places we were going.  Taking a day or two and doing nothing but lounging by a pool or going to a movie really helped recharge our travel batteries.
What was your weirdest travel experience?
Our weirdest travel experience was being recognized by other bloggers in a bus station in Argentina.  They called out our name as we were getting on the bus- we had never met them before! It was certainly a weird coincidence!
How much have you spent on this trip and how long has it lasted?
We saved for five years before the trip and posted all of our spending and budgeting as we travelled.  You'd be surprised, but we were only budget by $1 a day for the entire trip.  Pretty darn good!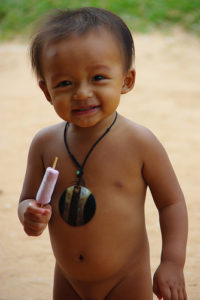 Where to next?
Oh so many places on the horizon!  Next up in no particular order are Iceland, Alaska and Utah- all for hiking!
What advice would you give to any Aspiring Backpackers?
Follow your dream and do what makes you happy. Skip the "important" sites if you don't care and do something less "important" that you will remember for the rest of your life.  Make your trip your own and follow your own path.
Thanks for Jillian & Danny for taking some time out (no pun intended) to speak with us at Aspiring Backpacker. If you have any questions you want to ask them, drop a comment below and they'll be able to answer 🙂 Make sure to check out their site too, we guarantee you'll love it.
Happy Travels!
Duff