Is New York's latest park, the High Line still a secret? We think not but it is ingenious. A once old disused and neglected freight railway that ran from the meat packing district to West 34th Street has been transformed into a luscious green haven. Visiting the High Line is one of the many things to do in New York while you visit.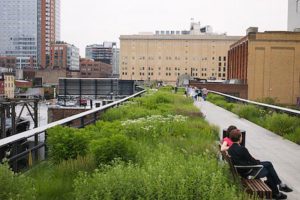 It's called the High Line because it runs above the streets of New York City and winds through the buildings. In the 1900's when it was first built this was to take freight off the cluttered roads. Now instead of rusting, overgrown, old rails, the High Line's makeover presents a beautiful park for everyone to enjoy with magnificent views of the New York skyline.
Enjoying Nature on the High Line
When up high you can wander through the park to take in the views and marvel at its restoration. You can indulge in a little running or jogging to keep yourself fit on your cheap holiday to New York. Or of course you can check out their programme of events and truly enjoy the green space.
For a huge dose of 'Nature on the Highline', join one of the High Line gardeners for a walk and get all the inside information on the design and upkeep of the park. You can also take a walking tour and gain information on its history, design and more.
The High Line's Outdoor Galleries
No chance is missed to keep this urban green space interesting. This includes using it as an outdoor art gallery. Currently the Lilliput exhibition showcases much smaller than you'd expect sculptures in unusual ways. These sculptures have been created by international artists. Great if you want to take in a little culture whilst you're walking high.
Eating on the High Line
Food concessions to enjoy as you wander the High Line include the expected and the less than ordinary. There are street vendors selling Italian ice-cream, ice pops and ice-cream sandwiches.
More substantial snacks include tacos, hot dogs, hamburgers, Northern Spy's Kale salad and sticky pork roll. Live the high life at Terroir at The Porch. Here you can sample some of the finest wines and beers and locally sourced foods.
Dancing the night away
Summer nights are good to cut some shapes with a Latin vibe! Check out their calendar to see when you can join the High Line's jArriba! events.
Or maybe gazing at the stars is more your cup of tea? Join the Amateur Astronomer's Association at dusk every Tuesday in summer to gaze into space with high powered telescopes.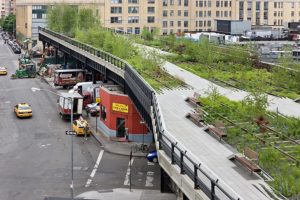 On the High for the youngsters
On Saturdays you can take the youngsters to drop-in art sessions, Arty Hours in the park. They can experiment with painting and drawing in 2D and 3D. Or let your young builders loose with the Workyard Art Kits where they can build their own vehicles, forts, animals or anything they choose.
On Wild Wednesdays they can get up close with nature. These drop-in sessions let children see the wonders of nature in action like touching a wriggly worm. Or finding out about the life cycle of butterflies.
Older kids can see special movie screenings throughout the summer months.
Climb Aboard the High Line
There's something for all the family to enjoy at the High Line when on cheap New York holidays. There are several places where you can jump aboard. At least 4 of these access points have elevators to make it easy. Oh and there is easy wheelchair access too.
Join the park any day between 7.00 a.m. and 11.p.m. at:
• Gansevoort Street
• 14th Street (elevator access)
• West 16th Street (elevator access)
• West 18th Street
• West 20th Street
• 23rd Street (elevator access)
• West 26th Street
• West 28th Street
• West 30th Street (elevator access)
There is something for everyone on the High Line – so why not experience it for yourself?