Trekking poles, or hiking poles, have been steadily gaining popularity here in the UK, after being used widely on the continent for some time. Essentially based on ski-poles, although more versatile, their main benefit is that they take as much as 50% of the kinetic load from the legs and lower back while walking, by spreading the weight to four points rather than two.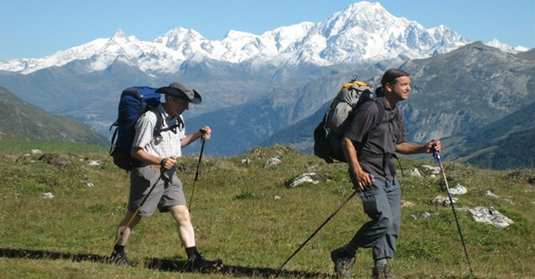 Trekking poles are also useful on slopes, particularly when walking downhill, and when carrying a heavy load. For those with knee problems, they can help to alleviate the shocks felt by the knees during a rigorous hike.
They also look good when matched with a pair of Craghoppers!
If you're thinking about adding a pair of trekking poles to your hiking kit, this guide will help you get to know more about them and their benefits. You don't need to spend a fortune on your first pair. It's well worth taking a look at the selection at Blacks to get a better idea of what's available and the prices you can expect to pay.
Increased stability
When you're heading out into rough terrain, poles can come in useful in a variety of setting. When crossing rivers and streams, they help you to keep your balance on those slippery stones. They'll also help increase your stability when on scree runs, allowing you to correct your balance without hitting the ground first. Bog jumping is made far easier, as is hiking through snow; with snow baskets fitted to your poles you can feel your way across snow covered ground without falling into any hidden potholes.
On steep ground
Uphill or downhill, trekking poles can boost your walking power. Heading uphill, poles provide the support you need to shift your centre of gravity forward, giving you the extra momentum you need for your climb. Heading downhill, poles will take the load from your joints and bones, making them ideal for those who regularly experience discomfort on declines. It helps to lengthen your poles a little for downhill parts of the hike.
A better overall workout
If you're looking to increase your fitness levels, trekking poles help to provide a full body workout. Similar to Nordic Walking, by using your arms as well as your legs while walking at pace on a slight incline, the action is akin to cross country skiing.
Increased endurance
Because you aren't putting so much strain on your legs and knee joints, when walking with poles, you'll notice an increase in your endurance levels. You'll be able to walk further, and get more from your outdoor activities as a result. And at the end of the day, you're legs won't feel as tired out as you may be used to!
Advantages over traditional walking sticks
Trekking poles are far better designed for hiking purposes than traditional walking sticks. As well as being far lighter in weight, making them easier to use, they are adjustable in height, ensuring that your posture stays correctly aligned. Their adjustable design also means that you can shrink them down to fit easily into your rucksack or car. The main advantage is that they feature an anti-shock mechanism, which means that they impact on joints and muscles far less than wooden walking sticks too.