With the availability of numerous airlines available in the UK today, finding affordable flights to Stockholm, Sweden is not a big deal. While in Stockholm, you can choose to behave like an official visitor as you go about your daily businesses or mingle with the locals and behave like them for more fun. If you want to eat what and where you like a local in Stockholm, here are a few smart tips to help you out: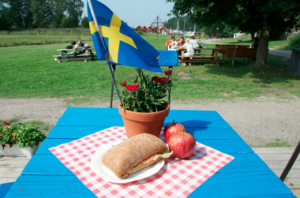 1. Behave Like the locals
As the saying goes, "when you go to Rome, do as the Romans do." Behaving like the locals will allow you to be viewed as a native and people won't be staring at you like some kind of alien. This will allow you to move from one eating joint to the other easily without raising eyebrows and you will be served just like the locals, meaning that you won't be taken advantage of or overcharged. For you to be successful in this mission, you have to make friends with some locals near you and learn how they dress, behave, and talk without informing them.
2. Visit the local Markets
As compared to restaurants and hotels, the local markets are known to offer mouth-watering dishes at very affordable rates. There are numerous local markets available in the neighbourhoods, all you have to do is to go to one that suits your needs and eat a meal of your choice. Notable markets include Stortorget Square, Hotorget Market, Stockholm Camden, Ostermalms Saluhall, and the Fresh Air Market.
3. Cook in Your Apartment
Instead of visiting expensive restaurants, you can easily prepare your own meals in your apartment just like the locals do. Cooking in your apartment not only allows you to prepare and eat fresh meals, but also gives you the opportunity to save your holiday money. There are a lot of grocery stores and supermarkets in Stockholm selling fresh vegetables, fruits, and meat 24 hours a day. Some of the best grocery stores include Stockholm Foods, Tristar Mohawk & Subway, 7-Eleven Food Stores, and the Shop Easy Foods. If you do not know how to cook, try going for cooking classes in your local town or city before visiting Stockholm.
3. Go For a Picnic
Having a picnic away from your apartment or hotel room not only gives you the chance to enjoy fresh air, but also allows you to spend good moments with your family and interact with the locals. There are a wide variety of picnic spots in Stockholm to choose from including Drottningholm, Humlegarden Park, Moderna Museet, Chines Pavilion, City Hall Gardens, Sandhanm, and Lilla Essingen Strand.
4. Shop With the Locals
Even though you are in a new city, think about how you usually behave when shopping for food at home. When going to the market centres or food stalls, do not be afraid to jostle with the locals or join the long queues as you look for something to eat or ask for discounts. If you think you can lose your way while moving from one market to another, you can ask a friendly native to accompany you and give you the right directions.
5. Be Adventurous
It is very obvious that foods sold in the cities are more expensive as compared to those offered in the interior or rural areas. So, when looking for food, do not limit yourself to the city. Be adventurous and make your way to the remote areas and suburbia where food stalls or small hotels specialise in offering local cuisines at affordable rates. There are a number of buses and taxis offering cheap transport to the remote areas. Before you go to any remote area or suburb, it is very advisable for you to do enough research and know more about the different regions. The best people to ask for vital information are your local guides and new found friends.