Guest post by Maria Kruk, an author for Portugal.net
Madeira is one of the travel treasuries in Portugal, being distant from the mainland and surrounded by limitless ocean spaces. Indeed, an allurement of this island cannot be overestimated, considering its picturesque landscapes, fancy vineyards, momentous history and many other things, which draw an attention of thousands of visitors every year. Every tourist is likely to find something unique and incredible about this island that is one of the top places to go.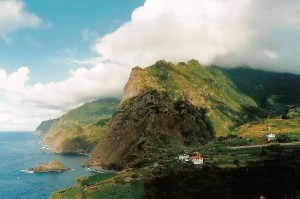 History
Madeira preserves a tough story, which counts about 590 years. It was officially discovered by Portuguese sailors in 1418 and since these times the island has experienced numerous transformations. Green woods were burnt down and replaced with garden plots; for a long time agriculture was the main activity on the island. Later, Madeira was figured as an important spot in global trade, especially the port of Funchal.  The 17th century was a period of winemaking industry and, by the way, Madeira wines are still one of the top tourist attractions on the island. Decades ago Madeira turned into one of the most favorite resorts of European aristocracy and royal houses. In fact, tourism makes Madeira a special destination till nowadays.
Cuisine
As it was already mentioned, wines are must-try attraction on Madeira. Specifically, Henry the Navigator gave an impetus to wine manufacture by exporting vines from Crete and during following decades the entire technology of producing Madeira was introduced. A wide range of seafood is also a point of travel magnetism of the area. Local fishers always supply restaurants with freshly-caught fish and mollusks, so there is no way to lose while surfing the menu. All in all, Madeira cuisine does not requires any spices, being based on fresh seafood and meat, fruits and vegetables and , of course, wines.
Flowers
During 300 years Portuguese people brought various plant species to Madeira and to date the island outbursts with colorful and vivid botanic gardens and green parks. The most popular and visited include Jardim Orquidea (Orchids Graden) and Montepalace Tropical Garden. Besides, Madeira hosts annual flower festival, during which one could be delighted with high diversity of flowers, bred on the island.
Ocean
Ocean has influenced a lot on lifestyle of Madeira residents, as well as it brings the finest impressions to visitors. Indeed, many locals have their housings on the hills, so they could enjoy beautiful scenes from the windows.  Many resorts, including spectacular Funchal, provide go-down slopes to the ocean and, therefore, visitors might get closer to oceanic water. In addition, while travelling around Madeira Island, one may stop on certain sightseeing platforms, called "miradouro"; they are the perfect spots to make pictures of the ocean, to buy some keepsakes in souvenir vendors or simply to have a snack.
Aquatics
The Atlantic Ocean appears to be one of the top reasons people go to Madeira also due to various excursions and guides. These are diving, both in daytime and nighttime, wind-surfing, sailing, canoeing and water skiing. The specific attention is paid to whale watching tours. Perhaps, it is the best idea to get acquainted with marine habitat.