Whenever you're travelling on a budget it is a good idea to plan carefully, when that trip involves backpacking them you need to plan a lot more. You need to save every penny you can, so breaking down your trip and looking at what and where you can save money is crucial. You should also take a look at companies like Holiday Discount Centre that may be able to help you with planning you travel. Just because you're watching your spending doesn't mean you can't have a good time when you go backpacking, sometimes you will have the best experiences when trying to cut corners and save every penny.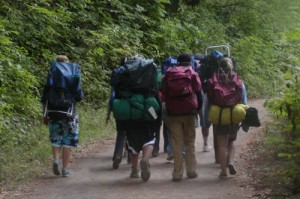 Here are some great tips to follow if you're on a tight budget:
1) Pack light
Remember that you don't need to bring your whole wardrobe with you when you go travelling, less is definitely more. Lots of first time backpackers don't know what to expect so they bring absolutely everything with them, do your homework about what wether to expect and pack accordingly. You don't want to be held back by your heavy bag, always be the last one getting from A to B because you've got 10 more kilos on your back than everyone else – it could be the difference between catching that last bus or spending the night in a bus station. It is also good not be overpacked because any overweight issues at check in and you'll be paying the airline extra money.
2) Don't bring your valuables
There's no need to bring all of your bling! Back packing is all about keeping things basic. It's a great feeling not having to check for your expensive watch or earring every time you leave a hostel, you probably won't wear the bling so there's no need to bring it and worry about it for the whole trip.
3) Buy alcohol from a shop
Usually in tours areas the drinks prices are double or even triple the price of a shop. So it's a good idea to go to the shop and then sit around in your hostel exchanging stories with other travellers. This will save you a lot of money in the ing run if you like to enjoy a beer or two every evening.
4) Eat snacks
It's always a good idea to have some snacks with you when you're out and about. Usually you don't need to eat a lot in between meals, but if you're far from any shops you may have to settle for a restaurant that doesn't tie in with your budget.
5) Try to book hostels with a kitchen
If you can get a hostel with a kitchen then it's perfect! You will be able to cook your own meals which will save you a lot of money and do wonders for your budget. In some countries, eating out every night just isn't an option for back packers – the more you can cook for yourself the better!