Melbourne is a different world to Sydney, much more bohemian, artsy even more 'European'. While it still maintains it Australian vibe, it packs a different punch with endless cafes, dive bars and art centres. When you make it to Melbourne, be sure to check out these five sights:
The Melbourne Cricket Ground (The MCG): Simply known as 'the G' to most Australian sports lovers, it's the spiritual home of the nation's two favourite sports – cricket and Australian Football. With a seating capacity of 110,000 screaming (drunk) Aussies, the MCG is an awesome place to get down and dirty with true Australian culture. Try to time your trip to Melbourne when there's a game on and you're sure to have one of the best Australian experiences on the market.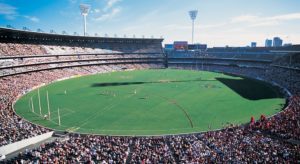 The Queen Victoria Markets: 'Vic market'  is one of the best markets in all of Australia. It essentially located in Swanston Street at the northern end of the central business district and is a popular meeting place for shoppers and tourists especially on the real market days of Saturday and Sunday. You can become the ultimate tourist and buy a Didgeridoo, a Crocodile Dundee hat, stuffed wallabies and kangaroo toys – you get the picture.
St Kilda: Party time? During the day St Kilda's acts as a second home beach retreat to most young Melburnians during the scorching summer, but it also holds attractions for thousands of tourists who visit the busy cafe strip along Acland Street. After the sun goes down, and you're suitably and predictably sunburnt you're in the right place to nail a few scooners (they don't do pints in Oz). Fitzroy St is the place to be, just be prepared to damage your credit card!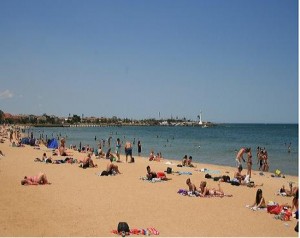 Federation Square: The latest addition to central Melbourne's artistic precinct. The building itself has won numerous awards and the spacious surrounding allow plenty of opportunity to stare at some beautiful blonde Aussies (or the fantastic art exhibitions, which ever you prefer). Chilling around Fed square is a great way to spend an afternoon.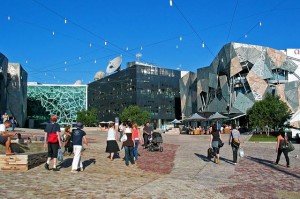 Phillip Island: I'm cheating a bit here as it's not actually in Melbourne, but it's less than a 90 minute drive away so it's certainly doable as a day trip. People come here for one thing, the 'penguin parade'. For $20, you get a fron seat view of the penguins,  sunset, walking up from the sea to their nests. At the risk of sounding sexist (whatever), chicks love this end of story. And to be fair, it is bloody cute.
I was in Australia a whole year before I finally ventured to Melbourne! I caught an Aussie-rules footy match and it was one of the highlights of my time in Oz. Happy travels!
Johnny