Bored with staying in a conventional hostel? Want a bit of a change? Stay in a hostel with a twist. We thought we'd get a bit creative and check out some of the craziest hostels in the world.
They may be all novelty rooms but as the big kids we are at Aspiring Backpacker we'll be looking to stay in some of them when we head to these places…why not you too?
Read below for a look at the 5 craziest hostels in the world, and what you'll be staying in:
1. In a Courthouse – Clink 78, Kings Cross, London
This is a Victorian magistrates courthouse transformed into a hostel for your for your pleasure. There are two original courtrooms that are now common rooms (for TV and Internet) and being so close to the station you could easily use this as a hub for exploring London and the UK.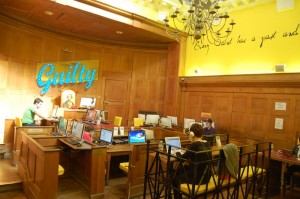 2. In a Jail – Ottawa Jail Hostel, Ottawa, Canada
Going with a theme here…go to court..get sentenced…go to Jail right? Stay in a Jail without committing a crime at the Ottawa Jail Hostel in Canada. Not quite sure you want to be staying in a cell, but if you have to make sure you stay here instead of a real one.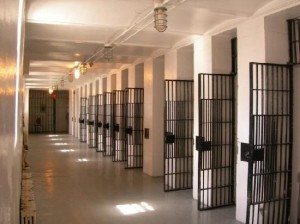 3. In a Jumbo Jet – Jumbo Stay, Stockholm, Sweden
This has to be an Airplane spotters wet dream. This old jumbo jet has been done up with original features still in the plane. If you're really into it you can get the premier room which is in the cockpit.  This is very creative, and could make your stay in Sweden even more memorable than it already will be. However, if that doesn't float your boat you could stay on a ….(see below)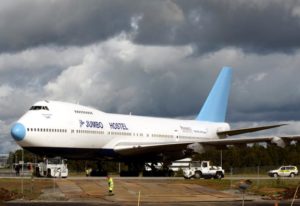 4. On a boat – STF Hostel af Chapman & Skeppsholmen, Stockholm, Sweden
Going for themes again here, this time a boat. Docked in port, this hostel has dorm rooms and privates for you to stay in. Got to give it to the Swedes, they are very creative with their hostels and we are impressed, definitely something we'll try when we visit. Being another transport related hostel in Sweden we looked for one that lets you stay in a car but to no avail… I guess watch this space (or hire one and sleep there).
5. In a Treehouse, Kadir's Treehouse, Olympos, Turkey
Want to feel like a kid again and stay in a treehouse? Well now you can at Kadir's Treehouse with some of the bedrooms in actual treehouses. With the Mediterranean coast line nearby, it would be a good stop off.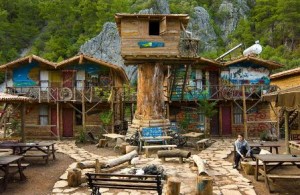 6. In a pipe?!, Turbo Hotel, Tepoztlan, Mexico

Ok, so I'm supposed to be writing about hostels but just couldn't give it a miss. So your accommodation will be to stay in a concrete pipe? WTF I hear you say – yes that's right, a pipe! The room is complete with a queen size bed, windows and curtains (obviously you need some privacy staying in a pipe). It's actually set up so you get a decent view of the local mountain range from your pipe too…room with a view, nice.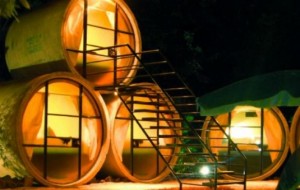 There were obviously loads more to choose from and with so many weird and wonderful hostels around the world you can certainly 'spice up' your hostel stay. At the end of the day though, it's a bed to sleep in and that's all you need when traveling this crazy world of ours. You will have fun staying in these places but even if you don't you'll have lots of fun anyway. 🙂
If sleeping in a jail or a pipe isn't your thing you could alternatively sleep rough in Malaysia with rats and cockroaches as your roommates – we thoroughly recommend it (and it's free)!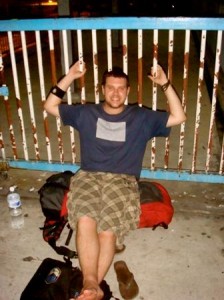 Stayed in any weirder hostels than these? Give us a shout in the comments below.
Enjoy the crazy accommodations!
Duff