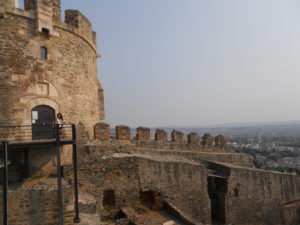 When most people think of Greece, especially for a visit, they think of going to Athens or checking out beaches on the islands. While both of these options are great and highly recommended, they are both expensive. Thessaloniki is the little brother of Athens in the Northern Region of Greece and it should be a stop on every backpackers list. Here's why:
Thessaloniki has great cheap options for travelers to stay, and there are plenty of ways to fly for cheap to get there!. The Little Big House hostel sits on the upper end of the city and costs around €17 (EUR) a night. Taking a bus from the airport should take around an hour but only costs about 80 cents. A taxi is another option but much more costly as it would cost around €20-25 (EUR) for a ride. If hostels aren't your thing, there are also bed and breakfasts from €12-15 a night and hotels from €15-40 a night depending on how close to the city center you want to stay.
Thessaloniki is a cultural hotspot. With Byzantine and Ottoman influences to be seen everywhere. Thessaloniki hosts an International Fair and an International Film Festival every Fall and an International Book Fair every Spring. There are several museums in the city, two that I would recommend are the Archaeological Museum and the Museum of Byzantine Culture. Both of these museums are relatively small, making them both easy to see in a day for the ambitious traveler. Each museum costs around €6 but you can buy a combo ticket for €9, why not see both! There are also countless historical sites to see for free, the White Tower, the Rotunda, the Arch at Kamara, Agia Sophia and several archaeological sites scattered around the city for the public to look in on.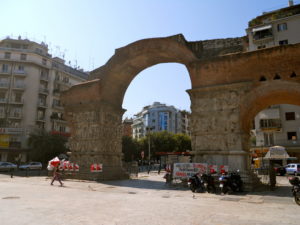 You can't go to Thessaloniki without having a cup of coffee. Try a frappe, a cold drink coined in cafes in Greece. There are cafes all over the city but two great spots to get a coffee at are Aristotle Square and the old walls of the city. Aristotle Square is the main square of the city that everything revolves around. Making it great for people watching and interacting with the flow of the city. The old walls is a beautiful historic site that over looks the entire city and the Aegean sea making it the perfect spot to enjoy a frappe! There are also a ton of great spots to get a gyro or a souvalki. These famous Greek sandwiches are fast, cheap (only a few euros), and possibly the best tasting food in Europe!
Thessaloniki also has a great nightlife. There are many universities in Thessaloniki making most of the bars fun and crowded spots. Often, bars on the main strip by the water will have crowds pouring out of their doors on any given night. Ladadika is an entire area of popular bars and clubs that travelers can tie one on at and party until the early hours of the mourning. Also a short cab ride can get travelers to W or Vouge, two of the most popular and biggest clubs in the city. Bars and clubs are usually open till around 7 a.m, so make sure you're ready for a long night!
–Nick