If you have the guts to travel and see places, well I guess you might also have what it takes to wake up and sleep in temperatures from -6 to -2? The world has a lot to offer us to see and experience, but this one might be a little bizarre. It's the coolest ice hotels in the world and it gets even better than that as these unique hotels offer the best accommodation when it comes to freezing temperatures. So if you're choosing a winter wedding venue or just having a new experience, this is the perfect solution.
So go through my list and surely next time you might just end up at one of these nippiest hotels on your next destination.
Ice Hotel, Jukkasjärvi, Sweden
The Ice Hotel found in the village of Jukkasjärvi, Sweden was the first Ice Hotel built in the world. It is also the warmest Ice Hotel ever made with a temperature ranging between 5 to 8 degrees. So when it comes to making this extraordinary hotel, it's no joke as it requires 10,000 tons of ice and 30,000 tons of snow which is taken from the Torne River every spring. Crystal clear ice is carved to create the hotel itself and the hotels bar with its matching ice glasses to make things more interesting for its guests. The bedrooms are made from block of ice with skin, fur and hides from animals on top that can comfort you with warmth. This Ice hotel comes with different activities daily like ice carving lessons and dog sledding.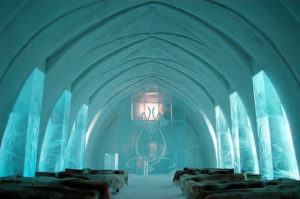 Sorrisniva Igloo Hotel, Alta Norway
This Igloo Hotel is Europe's northernmost ice hotel located in Finnmark region about 250 km from North Cape. The hotel has 30 rooms that can accommodate guests from all over the world and showcases ice furniture built all over the place. This Ice Hotel is unique as it changes themes every year. Not only that, this place is also equipped with wireless internet connections for you to keep in touch with the outside world. It surely won't just be another arctic experience with the freezing temperatures, but also a modernized taste along with it.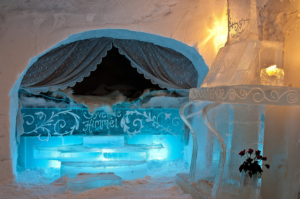 Snow Castle, Kemi, Finland
The Snow Castle is one of Lapland's winter icing on the cake. It caters not only an arctic experience but also showcases the artwork of local architects and designers on the hotel itself, as they show off their work on the art gallery inside the ice hotel. You can also dine with friends and family as this hotel has a snow restaurant for outside guests to enjoy. If you want to experience a different thrill on your wedding day, the Snow Castle is one of the most ideal places to do it. Remember to book in advance, as this hotel is only visible each year from January until April and can be quite busy with reservations.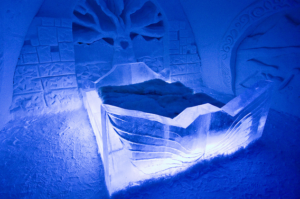 Aurora Ice Hotel, Alaska USA
The Aurora Ice Hotel is the only ice hotel located in the US. This ice hotel is built by one of the world's ice sculpting champion, Steve Brice. This arctic-vibe hotel can accommodate you with its eccentric designed rooms and not to forget to have a drink at its bizarre ice bar with a great view of the fanciful chandeliers lighting up the room. The hotel is quite pricey but if you just plan to visit and have a look at their in-house ice museum, the price for a day tour is $15. So head on and experience this majestic masterpiece and have a great freezing time!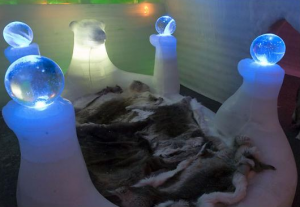 Hotel de Glace, Quebec Canada
Hotel de Glace is made from 15,000 tons of snow and 500 tons of ice. This amazing and unique hotel offers a different ambiance with creative designs from its walls and floor, all made fresh each year. You can also enjoy the décor around the hotel while having a tour around it. If you are lucky, you might also get to witness a wedding ceremony at the hotels ice chapel and grasp or pause for a sweet moment while strolling around. If you plan to visit and stay plus ready to splurge, the price ranges about $219 per person a night. It's quite pricey but you can always charge everything else on experience and relish the moment as it's an out of the normal event made to last for only a few months a year.