Botswana is a landlocked treasure and a scenic paradise. From the arid desert of the Kalahari to the sparkling waters of the Okavango Delta, the wildlife in Botswana is second to none. With wildlife parks spilling across almost a fifth of the land, Botswana has some of the best safaris in Africa. Check out these three unmissable sights in Botswana and experience untouched nature.
Canter through the Okavango Delta
A twist on the traditional, join a horseback-riding safari through the Okavango Delta. A mystic paradise in the thirst land of the Kalahari Desert, Okavango is the largest inland delta in the world. An innumerable variety of birds, plants, and wildlife call the golden floodplains home. On horseback, traverse the animal-made paths as you ride side by side with a herd of zebras or quietly observe a family of elephants. Venture further into the delta and follow buffalo from island to island as you splash through water-lily filled lagoons. As the crimson sky signals the approaching of night, feel the gentle winds and listen to the croon of the birds. Take in the spectacular and unspoilt surroundings.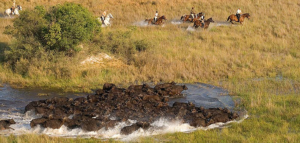 Explore the deep Gcwihaba Caverns
The Gcwihaba Caverns, which translates to Hyena's Hole, is one of the most remote and exciting landmarks in Botswana. Formed nearly three million years ago, these caves are an oddity nestled amongst the Kalahari Dunes. Only accessible by 4WD with no guides or signage in sight, these caves are for the most intrepid traveler. Those who make the trek will be rewarded with a labyrinth of passages containing amazing stalagmites and stalactites that reach up to 10 meters in length, beautifully colored flowstones, and frozen waterfalls. Some passageways are easily walked while others force you to crawl on your belly to gain access. If impressive rock formations don't entice you, listen to this: there is a legend of untold treasures from the 19th century hidden in the depths of Hyena's Hole.
Meditate at the Makgadikgadi Salt Pans
Considered the largest grouping of salt flats in the world, the Makgadikgadi Salt Pans consist of white barren landscape further than the eye can see. With a lunar surface, it is the remnants of an ancient lake, which was once larger than the size of Switzerland. It is remarkable in its stark nothingness. You can sleep under the stars in the boundless silence. During the annual rainy season between November and January, the flats turn into an oasis, and the area becomes a habitat for the roaming zebras, wildebeest, and flamingos. As it is the second largest migration in Africa, it is a spectacle not to be missed!